BHIM App : Hey Guys , After demonetization Our Prime minister Took Many Steps For Digitization , BHIM(Bharat Interface For Money) Also A Big Step Towards Digitalization . This Is A National UPI App Launched By Prime Minister Narendra Modi . You Can Use this app to payment to merchants Cashless Using UPI or VPA.NPCI developed this App And Launched by PM Narendra Modi .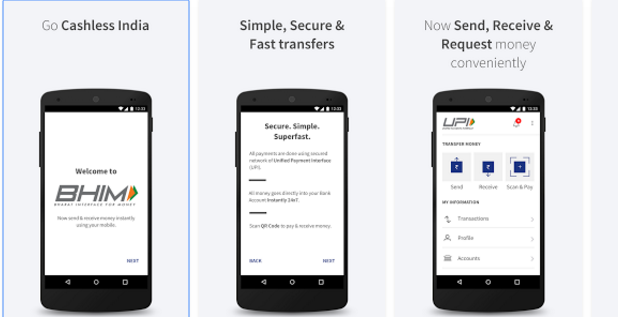 Abou BHIM App :
Bharat Interface for Money (BHIM) is an initiative to enable fast, secure, reliable cashless payments through your mobile phone. BHIM is interoperable with other Unified Payment Interface (UPI) applications, and bank accounts. BHIM is developed by the National Payment Corporation of India (NPCI). BHIM is made in India and dedicated to the service of the nation.
How To Use BHIM App For Cashless Payments :
After Downloading App , Install the app and open it.
After Intro , Enter Your Mobile number and Verify it.
Your Mobile no. should be same as you have registered in Bank .
Now Select bank Name . And then your account details will be fatch.
Set MPIN For Future Transaction .
You have successfully linked your account . now its time to transect using BHIM app .
    1. How To Send And receive Payments :-
      Now Select Options Like Send ., Pay By QR Code or Request .
 For Sending Payments Enter The Receiver's VPA Address or Mobile Number .
Then Enter Amount and Double verify it and start sending .
If You Want to Request then same enter amount and VPA Address of the Beneficery .
If you have QR code Of receiver then go for 3rd option scan the qr Code And Pay using This Option .
For All Three Transaction you will need to Enter Your MPIN .
  2. 
How to Check Your Account Balance :-
You Can Also Check Your Account balance by following below steps .
First Go to Bank Accounts .
here , Click on Bank Account For which you want to check money.
Now Click On Request For Balance .
Enter MPIn And Done You Will Get Account BAlance On Same Screen.
3. How To Send Money Who is Not On BHIM UPI App :-
Also Payment can be made via (IFSC, Account number) or (MMID, Mobile number) if the person is not registered on Bharat Interface for Money.
FAQs For BHIM App (Frequently Asked Questions )
1.How fast is a transaction over Bharat Interface for Money?
Ans:As fast as it can get! All payments over Bharat Interface for Money are linked to your bank account and transaction can be completed within few seconds.
2. Are there any charges for using Bharat Interface for Money?
Ans:There are no charges for making transaction through Bharat Interface for Money. Note – Your bank might however levy a nominal charge as UPI or IMPS transfer fee which is not under our control. Please check with your bank for more details.
3. What do I need to start using Bharat Interface for Money?
Ans:Bharat Interface for Money app is currently available on Android (Version 8 and above) and iOS mobiles (Version 5 and above). We will be making our app available on other platforms very soon.
4. Is Bharat Interface for Money app compatible with every Mobile OS?
To start using Bharat Interface for Money all you need is a Smartphone, Internet access, an Indian bank account that supports UPI payments and mobile number linked to the bank account. Link your bank account to UPI through the app.
5. Do I need to enable mobile banking on my bank account to use Bharat Interface for Money?
Ans:Your account need not be enabled for mobile banking to use Bharat Interface for Money. Your mobile number shall have to be registered with the Bank.
6. Do I need to be a customer of a particular bank to use Bharat Interface for Money?
Ans:To enable transfers directly using your bank account, your bank needs to be live on UPI (Unified Payment Interface) platform. All the banks, which are currently live on UPI, have been listed in the Bharat Interface for Money app.
7. How do I set the UPI-PIN for my bank account from Bharat Interface for Money?
Ans:You can set your UPI PIN by going to Main Menu -Bank Accounts -Set UPI-PIN for the selected account. You will be prompted to enter the last 6 digits of your Debit/ATM card along with the expiry date. You will then receive an OTP which you will enter and set your UPI PIN. Note – 'UPI-PIN is not the same as MPIN provided by your bank for mobile banking'.
8. Can I link multiple bank accounts with Bharat Interface for Money?
Ans:Currently, Bharat Interface for Money supports linking of one Bank only. At the time of account set-up, you can link your preferred bank account as the default account. In case you want to link another bank account, you can go to Main menu, choose Bank Accounts and select your default account. Any money that is transferred to you using your mobile number or payment address will be credited into your default account.
9. Why does my mobile number with Bharat Interface for Money and the one registered with my bank account have to be the same?
Ans:This is a banking network (UPI) requirement. The mobile number which is used to register with Bharat Interface for Money is used to match the bank accounts linked against it.
10. Do I have to give Bharat Interface for Money my bank a/c details?
Ans:At the time of registration you will be providing us with the Debit card details and with the use your mobile number registered to your bank account, we will pre-fetch the details from your bank. All the information exchange happens over secure banking networks and we don't store it, your information is safe!
11. All you need to know about UPI
Ans:Unified Payment Interface(UPI) is an instant payment system developed by the National Payments Corporation of India (NPCI), an RBI regulated entity. UPI is built over the IMPS infrastructure and allows you to instantly transfer money between any two parties bank accounts.
12. What happens if I enter wrong UPI-PIN during a transaction?
Ans:No problem, the app will prompt you to re-enter the correct UPI-PIN. The maximum number of tries allowed, depends on your bank. Please check with your bank for details.
13. I have selected the Bank name to link with UPI but it does not find my bank a/c
Ans:In such a case, please ensure that the mobile number linked to your bank account is same as the one verified in Bharat Interface for Money App. If it is not the same, your bank accounts will not be fetched by the UPI platform. Also only Savings and Current bank accounts are supported by Bharat Interface for Money.
14. Why is my UPI transaction failing?
Ans:When you shop-online, you can pay through UPI when you see UPI as a payment option. On clicking that, you will need to enter your Payment Address (xyz@upi). Once entered, you will receive a collect request on your Bharat Interface for Money app. Enter your UPI-PIN here and your payment will be complete. As easy as this!