Hello friends, Offers are raining these days, We recently published a munch Game Contest where you can win free goodies and cash prizes, now we have a new freebie where you can earn free goodies for playing cricket and scoring.
You can play 1 over cricket, score money and win assured prizes. Daily 9000 winners will get free prizes.
| Bingo Contest | Details |
| --- | --- |
| Contest Time | 10th Oct to 9th January 2022 |
| Winners | 9000 Users with Max runs in a day |
| Contest Link | BingoOffer.in |
| Prizes | Goodies |
How To Play Bingo Cricket Contest & Earn Free Goodies
1. First, Visit the Bingo Contest page on Bingooffer.in using the below link.
2. Now, once you are there, Register yourself with the name, email etc.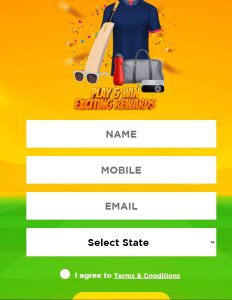 3. Now play cricket game for 1 over and try to score maximum runs.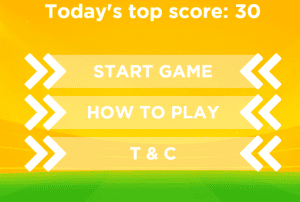 4. You can play it unlimited times and score maximum
5. Now if your score falls under the best 9000 score of the day, you will win assured prizes the next day via SMS
| Prizes | Details |
| --- | --- |
| Prize 1 | Table clock /Pens stand |
| Prize 2 | Shot glass tray / Cricket sunglasses |
| Prize 3 | Panama Cricket Hat / Mini portable projector |
| Prize 4 | Gym Bag / Sipper |
| Prize 5 | Jersey /Cricket Bats. |
---
ABOUT THE CONTEST
The Bingo! Cricket Contest ("the Contest") is being sponsored by ITC Limited ("ITC").
The Contest is being organized, managed and administered by Premier Sales Promotions Private Limited ("Bigcity").
People participating or seeking to participate in the Contest shall individually be referred to as "Participant" and collectively as "Participants".
Participation in this Contest is purely voluntary.
By participating in this Contest, each Participant is deemed to have accepted the complete terms and conditions of this Contest available onwww.bingooffer.in ("Contest website") as well as the decisions of ITC and/or Bigcity which are final and binding in all matters related to the Contest. Successfully entering the Contest and winning a prize is subject to all requirements set forth herein.
The Contest shall be live from 00:00 hours on 10 October 2021 and shall close on 09 January 2022 at 23:59 hours ("Contest Period"). A day for the requirement of the Contest Period is 00:00 hours to 23:59 hours of a particular day. Entries received after the end of the Contest Period will not be considered.
The Contest is subject to all applicable central, state and local laws and regulations.
ELIGIBILITY
The Contest is open only for Indian citizens who are currently residing in India and are above the age of 18.
In addition to the other eligibility criteria contained herein, the Participants should have a government approved photo ID proof, namely, passport, voter card, driver's license, or Aadhaar card that is valid during the Contest Period, a copy of which will have to be submitted at the request of ITC and/or Bigcity and, without which the Participant will be disqualified from the Contest.
The following persons are not eligible to participate in the Contest: employees, contractors, directors and officers of ITC or Bigcity, its subsidiaries and affiliated companies, distributors, Web design, advertising, fulfilment, judging and promotion vendors involved in the administration, development, fulfilment and execution of this Contest (collectively, "Promotion Parties") and the immediate family members (spouse, parent, child, sibling, grandparent, and/or "step") of such persons.

ITC and/or Bigcity reserves the right to exclude any person from the Contest on the grounds of (i) misconduct or criminal record; (ii) tampering with the entry process or the operation of Contest; (iii) acting in violation of these terms and conditions; (iv) acting in an unsportsmanlike or disruptive manner or with intent to annoy, abuse, threaten or harass any other person; or (v) for any other reasons, as it may deem fit and proper. No communication in this regard will be entertained.
STEPS TO PARTICIPATE
To participate in the Contest, Participants should follow the following steps ("Entry"):

Scan the QR Code available on Rs. 10 and Rs. 20 packs of Bingo! Potato chips. The QR code is also available on www.instagram.com/bingosnacks
.The Participants can also visit www.bingooffer.com directly to participate in the Contest.
Visit the weblink available through QR Code or the website mentioned above. The link would direct Participants to an interface (akin to game).
Participants must fill the necessary details like name, mobile number and phone number which would be verified by OTP received on the mobile number.
The Participants would need to play the game online and would stand a chance to win Prizes depending on the runs scored.

Entries which are incomplete or not in the format specified in these terms and conditions will not be considered to be valid.
SELECTION OF WINNERS
From all of the valid Entries received during the Contest Period, the 9000 Participants who have scored maximum runs for the day shall be declared as Winners. In case of a tie, the Winner would be chosen basis the time of completion of the game (the Participant who has completed the game earlier in the course of the day would be the Winner).
The Winners shall be declared within 45 days from the end of the Contest Period on www.bingooffer.in
The Winners shall be eligible to win any of the prizes mentioned below.
Table clock and Pens stand or Shot glass tray or Cricket sunglasses or Panama Cricket Hat or Mini portable projector or Gym Bag or Sipper or Jersey or Cricket Bats.
The declared prize we bill at the discretion of ITC limited and the Partner Agency.
A Participant can submit multiple entries but will not be eligible to receive more than one Prize.
Prizes cannot be transferred, exchanged or redeemed for cash or kind. In the event a Participant or a Winner does not accept the Prize in the time and manner stipulated, then the Prize will be deemed to be forfeited. Prizes must be taken as offered and cannot be varied. Any unused Prizes are non-transferable, non-refundable and non-redeemable for other goods or services and cannot be exchanged for cash or kind. Prizes, once delivered, cannot be replaced under any circumstances.
The image of the Prizes depicted on the ads/posters/TVC's/pack shots etc. are indicative only, and the actual Prizes may vary from the pictures.
A Participant who has won a daily prize once shall not be eligible to win any other Prize during the Contest Period.
CONTACTING PARTICIPANTS AND WINNERS
The Winners will be sent an SMS with a weblink wherein the Winners will have to update their details such as name, mobile number, email address, shipping address and other details. The SMS shall be sent on the mobile number used by the Winner for registering for this Contest.
The Winner shall be responsible to comply with the registration process, related formalities and production of any /all such documents/information as may be required by the BigCity or any other authority in connection with the Prize. The Pan card, Aadhar card, Passport or Voter ID will be the documents based on which the verification will be done if necessary.
Participants and Winners will be required to share their contact details and photos as requested by ITC and/or Bigcity in the manner provided by ITC and/or Bigcity.
In the event there is no response or incorrect details received from the Participants/Winners, ITC and/or Bigcity shall not be held responsible for non-delivery of the Prizes.
The Prizes will be given to the Winners, as the case may be, after completion of such audit and verification process as deemed fit by Bigcity.
Bigcity reserves the right to withhold Prizes in the event of submission of false, incorrect, misleading or fraudulent information and/or in the event of fraudulent practices like website or mobile system hacking, etc.
In the event of death of the Winner, no nominees or heirs or any other person of such Winner shall be eligible to claim the Prize.
All right, title and interest, including but not limited to, the intellectual property rights in the Contest and the promotional materials, all data collected as a result of this Contest and in any and all responses received shall vest solely and exclusively with ITC. ITC or any other person or entity permitted by ITC in this regard shall be entitled to use the responses received or any information in connection with the Entry in any media for future promotional, marketing, publicity and any other purpose without permission or payment to the Participant.
All material submitted in connection with the Contest (whether written, audio, electronic or visual form, or a combination of those) or any photographs, video and/or film footage and/or audio recording taken of Participant(s) are assigned to ITC upon submission and become of the property of ITC exclusively. ITC may use such material in the manner as it may deem fit.
By sharing their personal information with Bigcity, the Participants consent to collection, storing, processing and use of personal information i.e. name, address, email, mobile phone number by Bigcity, its affiliates, associates, agents, contractors and other third parties. Personal information given by the Participants shall be used to deliver Prizes and for promotional activities by Bigcity, its affiliates, associates, agents, contractors. The personal information is being collected by Big City Promotions Pvt. Ltd. and shall be retained by Big City Promotions Pvt. Ltd.
The Participants have an option of not providing the personal information as required under this Contest. The Participants also have an option to withdraw their consent in relation to usage of personal information during the Term of the Contest. In all such cases, the Entry of the Participant shall not be considered and Participant shall not be eligible for the Prize. The Participants may reach out to (insert email) for such withdrawals.
By participating in this Contest, the Participants acknowledge and consent to transfer and/or disclosure of their personal information by Bigcity to any third-party for providing services in relation to this Contest.
The security of personally identifiable information or sensitive personal data or information is important to Bigcity. Bigcitys maintain administrative, technical and physical safeguards to protect against unauthorised use, disclosure, alteration or destruction of the personally identifiable information or sensitive personal data or information. Bigcity strives to use commercially reasonable means to protect the information and cannot guarantee the security of the information.
By availing the Prizes and/or taking part in the Contest, all Participants agree that ITC and/or Bigcity shall be at liberty to use Participant's name and/or photo and/or video that may appear in any advertisements / promotions/media coverage or publicity in any form which exists today or will be known anytime in the future, without any consideration to the Participant or Winner. No fees or other sums are to be paid to the Participants or Winners on account of taking part in the aforementioned advertisements / promotions.
ITC and/or Bigcity reserves the sole and absolute right to terminate, modify or extend this Contest, at its absolute discretion without notice and without any liability, without assigning any reason whatsoever. No claims/queries shall be entertained in this regard.
ITC and/or Bigcity shall not be liable for any loss due to delay or destruction or damage of or inability to provide the Prizes due to Act of God, Governmental actions, riots, loss/damage/delay due to courier services and other force majeure circumstances and shall not be liable to pay any amount as compensation, or damages, for any such loss, delay or damage.
ITC and/or Bigcity, its officers, directors, employees, agents, successors, or assigns are not liable and do not have obligation with respect to (i) notifications, communications or materials sent by a Participant that are lost, late, misdirected, garbled, inaccurate, incomplete, illegible, unintelligible, damaged or otherwise not received by ITC and/or Bigcity, in whole or in part, due to computer, post office or technical error of any kind, (ii) telephone, electronic, hardware, software, network, internet or computer malfunctions, failures or difficulties, (iii) power-related or weather-related events of any kind, and/or to any event not under ITC and/or Bigcity's direct control, (iv) Entries or other communications from Participants that contain inaccurate information or do not comply with these rules, (v) errors, omissions, interruptions, deletions, defects, delays in operation or transmissions, theft, destruction, unauthorized access or alterations by Participants or third parties, (vi) If the Participant has registered himself to the DND of the telecom provider/ the Participant has registered with National Do Not Call Registry/ Participant has specifically requested for not receiving messages for the specific Contest (vii) any damages or losses of any kind resulting from acceptance, possession or use of any Prize. ITC and/or Bigcity, in their sole discretion, reserve the right to disqualify any person tampering with the entry process or the operation of the Contest or otherwise violating these rules (viii) any spam generated messages or operator code not being displayed on user's mobile phones. ITC and/or Bigcity further reserve the right to cancel, terminate or modify this Contest if this Contest cannot be completed as planned because of infection by computer virus, bugs, tampering, unauthorized intervention or technical failures of any sort.
No liability or responsibility is assumed by ITC and/or Bigcity resulting from Participant's participation in or attempt to participate in the Contest or ability or inability to upload or download any information in connection with the Contest. No responsibility or liability is assumed by ITC and/or Bigcity for technical problems or technical malfunction arising in connection with any of the following occurrences which may affect the operation of the Contest: Hardware or software errors; faulty computer, telephone, cable, satellite, network, electronic or Internet connectivity or other online or network communication problems; errors or limitations of any Internet providers, servers, hosts or other providers; garbled, jumbled or faulty data transmissions; failure of any online transmissions to be sent or received; lost, late, delayed or intercepted transmissions; inaccessibility of the Contest Website in whole or in part for any reason; traffic congestion on the Internet or Contest Website; unauthorized human or non-human intervention of the operation of the Contest, including without limitation, unauthorized tampering, hacking, theft, virus, bugs, or worms; or destruction of any aspect of the Contest, or loss, miscount, misdirection, inaccessibility or unavailability of an email account used in connection with the Contest. ITC is not responsible for any typographical errors in the announcement of prizes or these Terms and Conditions, or any inaccurate or incorrect data contained on the website. ITC is not responsible for any personal injury or property damage or losses of any kind which may be sustained to user's or any other person's computer equipment resulting from participation in the Contest. All Entries become the sole property of ITC, and will not be acknowledged or returned.
ITC and/or Bigcity shall under no circumstances be liable, whether jointly or severally, for any loss or damage suffered or sustained (including but not limited to consequential loss), including for personal injury or property damage suffered or sustained or any costs incurred, as a result of acceptance of any Prize or use of images in any advertising or promotional materials.
Any incidental charges, including statutory levies, are to be borne by the Participant.
ITC and/or Bigcity does not give any warranty with respect to the merchant ability, quality, suitability etc. of the Prizes.
None of the provisions of these terms and conditions shall be deemed to constitute a partnership or agency between any Participant and ITC and the Participant shall not have the authority to bind ITC in any manner whatsoever.
The Contest shall be adjudged by Bigcity and the decision of Bigcity will be final and binding with regard to any dispute arising out of this activity. ITC Ltd is a sponsor for the Contest and its Prizes and its liability as sponsor shall be limited to funding of the Prizes set out in these T&Cs (subject to all terms and conditions mentioned herein). The Contest shall be operated and conducted by BigCity and shall administer all the necessary formalities and procedures to give effect to this Contest and shall be solely liable for selection of Winner and distribution of Prizes and overall operation of the Contest.
Any consumer complaint with respect to this Contest shall be solely addressed to Bigcity at feedback@bigcity.in
This Contest is offered only in India and all disputes relating to this Contest shall be subject to the exclusive jurisdiction of courts at Bengaluru only.