Create Android App : Hey Guys Today i will Teach you how you can create An Android app In just Five Minutes Without any Coding Skills .You Can Create Android Multipurpose apps Both Static and Dynamic . The Website that We are Going to use is Appsgeyser.You Can Crete App For Website, Messenger , PDF , Books , E-commerce , Puzzels and Many more . it is available for Free and Paid Version both . in free version Features Are limited while premium have full features without any watermark
About Appsgeyser

:

AppsGeyser is free web platform that allows converting anyweb content into an Android App in 2 easy steps. Built to help people to transfer their ideas into apps. Making Of Android App Within 5 Minutes :-
Thing's you need 
• Browser – Chrome is recommended for smooth          creation
• Working Internet Connection.
Follow Below Steps :-
1. Firstly Go-to AppsGeyser : Visit Now
2. Click on Create Now.
3. Now choose the type of app you want to make like browser, radio station, pdf reader etc.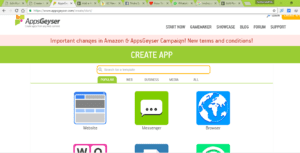 4.For Ex. I chose website app.
5. After choosing an app template, Enter the required info. acc. to information asked.

6. After clicking submitting all information, Click on Create App.
7. Login or Sign Up on AppsGeyser .Your app has been built .
8. After that you can Publish your app to Google Playstore or Amazon Appstore.
9. If you don't want to upload on any of these platforms you can download your app.
10. In the same way you can make your own game by going here : Visit Now
Related :
Top 5 Android Multitasking apps Of 2016
How To Change IMEI Number Of Android Phones
Final Words :
So Following Above Steps You can easily Builds An android app without any coding skills. you can also check other websites similer to appsgeyser like Andremo and search on google for more .
Thanks For reading If you like our Post please Share with your Friends