Hello Friends, Recently we posted about Dhani Free Cashback Trick Where Many people earned up to Rs.300 Cash on signup and also shared steps to transfer the cashback into a bank account extending that post, we are now sharing another loot with the Dhani app also unlimited earning by Refer and earn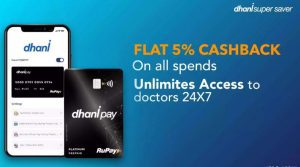 You can now get flat Rs.500 cashback without any investment and instantly. you just need to activate the Dhani Super saver card and follow the below steps.
What is Dhani Super Saver Card
Dhani Supersaver plan allows you to earn an extra 5% cashback on your transactions. you will earn a flat 5% cashback up to the limit of the plan in your dhani wallet instantly and you can use the dhani wallet balance to transfer your bank account using the paytm rent option if you have got Dhani Free Cashback card
---
How To Get Free Upto Rs.500 Cashback From Dhani App
This offer is for those users who have not yet applied for Dhani Super Saver Card
1. First of all download the Dhani App From Playstore if you are a new user.
2. Now log in and visit Dhani Service and click on Dhani Super Saver card [ the pink one]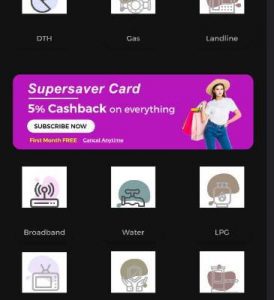 3. Now Activate the trial plan for the Dhani Super Saver card. There are 3 plans.
| Dhani Plan name | Cashback Limit | Per Month Cost | First Month Cost |
| --- | --- | --- | --- |
| Silver | 250 | 100 | FREE |
| Gold | 350 | 200 | FREE |
| Platinum | 500 | 350 | FREE |
4. You can activate plan free for the first month, so you can choose Platinum plan.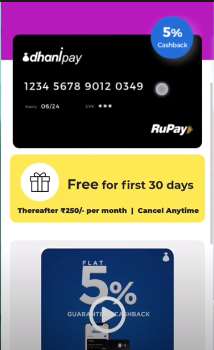 5. You need to add your credit or debit card. it won't be charged any single rupee. You can remove the card once you get cashback to follow the below trick.
6. Now add your address for the card delivery, it's free. you need to complete KYC if you have not done yet.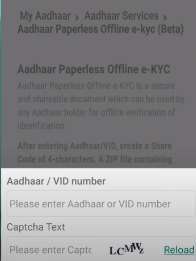 6. Once you activated the plan for the super saver card. now follow the below steps to claim free upto Rs.500 Cashback + Scratch card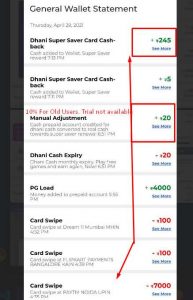 ---
1. Now You can load the amount in your dhani wallet using any payment option like Debit card or net banking.
2. Now, Let's suppose you have added Rs.10,000 and you have activated plan "Platinum"
3. Now Open paytm app and search for rent.
4. Make a rent payment of Rs.10,000 and pay using dhani card.
5. Once you paid, you will get 5% cashback by the end of the day.
6. So for spending Rs.10,000 you will get Rs.500 cashback now transfer this amount to your bank account using the same payTM rent trick.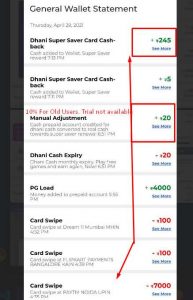 ---
How To Get Free Rs.185 cashback in bank for old users [
who have used Dhani super saver card trial

]

If you have used Dhani trial or the trial option is not available for you then you can pay the dhani card amount which start from Rs.100 to Rs.350 and get 10% cashback in dhani wallet after pay and get 5% cashback upto Rs.500

Follow the above process and pay the card fee using dhani balance to get 10% Cashback and make payment using Dhani card to Paytm Rent and claim cashback.
---
Refer Friends & Get Rs.200
you can refer friends on Dhani Super saver card and earn flat Rs.200 cashback and Rs.100 for dhani free cashback card. this offer is valid for limited time.
You can find your referral option under Dhani Dost section.