Dhani Free Cashback Card Promo Code
OPT100

– Earn 2% unlimited cashback on every transaction | Rs.100 Signup Bonus | Transferable to Bank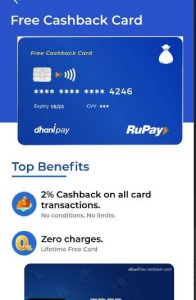 Dhani Free Cashback Prepaid Card Promo Code : OPT100: Hello Friends, I am sharing a new trick where you can get unlimited 2% Cashback for every transaction you do, You can use Dhani wallet balance with this card. This card can be used to shop from Amazon or other Online Shopping stores.
Dhani Wallet also offers a Supersaver card where you can earn 5% Cashback for every transaction. If you remember we have posted Dhani Refer and earn offer where you got ₹100 per Referral. Dhani cashback card is available for all users after KYC. You can also get Free Metal Credit card From OneCard with 10X rewards and Free SBI Cards
Dhani Free Cashback Card is Free| It has no charge | Don't Confuse it with Dhani Super Saver Card
Moreover, You can refer your friends to order a Dhani cashback card and earn FREE ₹100 Cashback for every referral who activates the card. It's a Rupay card with all the features of a platinum Rupay card.
Dhani Freedom Card Promo Code is GET400 : Get Rs.400 Cashback
Dhani Free Cashback Card Coupon Code
Also Read
How To Get Free Dhani Cashback Card From Dhani App & Get Rs.150
Use Promo Code OPT100 to Get an Extra Rs.100 Cashback on applying for Dhani Card.
1. First of all Click on the below link to download Dhani App from Playstore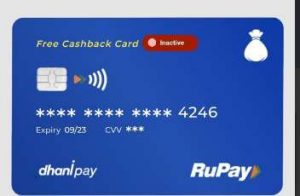 2. now signup with your mobile number and create an account if you are a new user.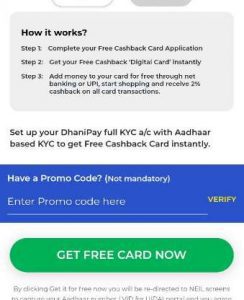 3. Now you can see the blue card with a free cashback card from here.
Apply Dhani Free cashback Card Coupon CODE :
OPT100
4. Click on apply for free button.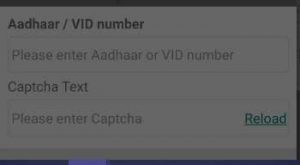 5. Now, You need to enter your adhaar for KYC and upload the XML file.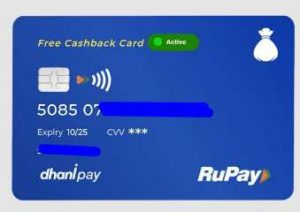 6. Once you have uploaded the data, Your free cashback card will be activated.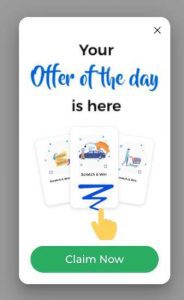 7. You will also get a scratch card with extra cashback after you get the card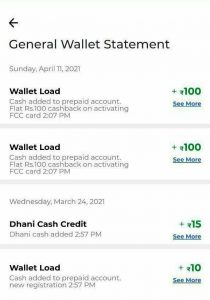 8. You will not get Rs.100 + Rs.100 in your Dhani Account
How to Withdraw Dhani Cash to bank
You can transfer the money from the Dhani card to the bank using the below trick. Just follow the steps given below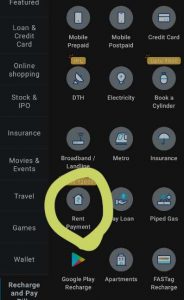 1. Open Your PayTM app and Visit the rent section.
2. you need to enter your bank account here
3. choose the amount which is available in Dhani for example Rs.300
4. Now You will get the option to pay using a credit/ debit card
5. Pay using a Dhani card and complete the transaction.
6. Now You have paid the amount to paytm and it will be credited to your PayTM.
---
Method 2: How To Withdraw Dhani Cash to Bank
If you want to get free 2% Cashback From Dhani & Want to get a balance in your bank account just follow the guide.
1. Open Freecharge App
2. Click on Rental
3. Click on Pay Rent.
4. Add account details where you want the money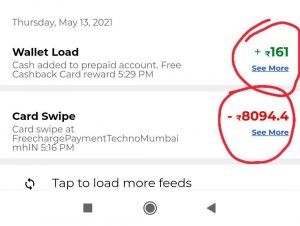 5. Now Pay using Your Dhani Card, You will be charged 1.18% and you will get 2% Cashback in Dhani App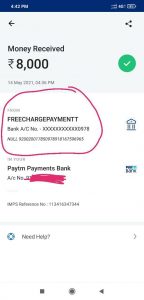 6. The Amount will be credited to your bank account that you have mentioned in 24 hours.
Faqs
Q. What is a Free Cashback Card?
Answer: A Free Cashback Card allows customers to avail 2% cashback up to a certain limit on all successful payment transactions done using the dhani app or using the dhani RuPay card.
How do I avail the offer?
Visit the app and click on the Free cashback card banner displayed on the Home Page.
If you're not a Full KYC user, then go through the Aadhaar based Full KYC set-up and become a Full KYC user.
Once your Full KYC setup is completed, activate your digital card.
You are now an active Free cashback card user.
Q2. Can I stop availing this offer?
Answer: Yes. Your offer is automatically disabled when you disable your card. To do so, click on the Free cashback card banner on the app to get to the card details screen. Users can toggle the ON/OFF switch on this screen to enable/disable their card transactions.
Q3. How can I view the cashback earned for a transaction?
Answer: Cashback earned using the Free cashback card is visible to users under the 'General Wallet' statement of the Wallet section.
Q4. Is there a Cash-back limit?
Answer: There is a monthly cashback limit applicable on Free Cashback card. Currently, a user can avail a maximum cashback of ₹100/month. Start date is considered as the date when the user opts for a Free cashback card.
Q5. What is my Billing Cycle?
Answer: Since this offer is free for all customers who are KYC compliant on the dhani app, there is no billing cycle applicable for this offer.
Q6. What happens if I opt for a Supersaver subscription?
Answer: If a user has already opted for a free cashback product and then opts for a Supersaver subscription, he/she will not be eligible for a 2% cashback on any transaction.