OLA Is India's No.1 Cab Service.Thousands of People Book a Cab only for Single Person that is not ECO Friendly and Pocket Friendly also 😉 So Ola Cabs Launched Share Cab where you can share your Ola With Other People travelling to same way of yours.Share rides are Cheaper and Convenient also they are ECO friendly.In order to tackle growing congestion, long traffic jams and rising pollution levels in India, Ola have taken a stance towards promoting ride-sharing as a greener solution to curb this serious problem.
To help everyone get started, we are offering a limited period offer – now pick up a 5 ride Share Pass for just Re. 1 between 6th – 11th August, 2017.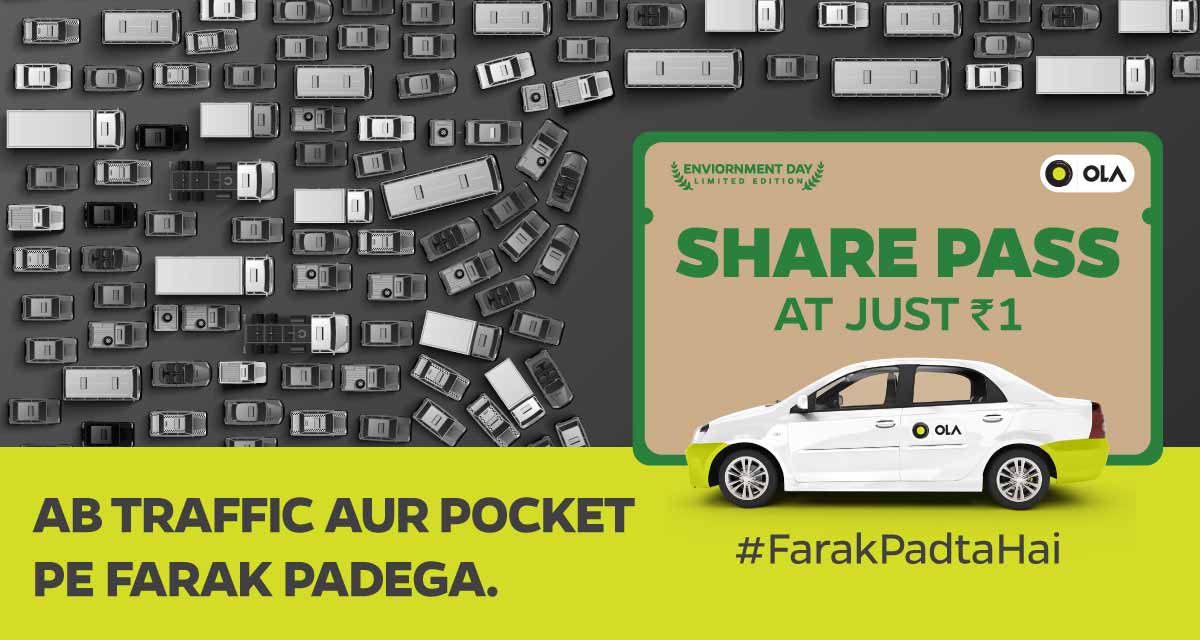 OLA Offering Share Pass at Rs. 1 Only By using OLA Share pass you will get huge discount on Share Rides like Fixed Rs. 40 for 7 KM (In Jaipur).Additionally if You Apply Refer Code(Given Below) You will also Get Rs.100 Cashback on your next share Ride which you can transfer to Bank Account Instantly.If You Refer Friends Both will Get Rs.100.
(proof Added)[Exclusive] Get Rs.100 Ola Money Buying Share pass on Ola Cabs+ Rs.100 Per referral
What Ola Share Pass offers :-
Rides of up to 8 kms will be only be charged at a flat rate of Rs 40
Rides of distance more than 8 kms will be charged at Micro rates.This Trick is Tested in jaipur You can check for other cities and comment below 
So to get Rs. 100 OlamoneyCash you just need to Buy this ola Pass and complete a ride (no minimum ride amount) . Additionally if You refer your self or your friend you will also get Rs. 100 so in short  just pay 1Rs and get rs.200 cashback.
How To Buy Ola Share Pass For Rs. 1 Only -:
Now Install it And Complete Signup , If you are Old user just Login using OTP
Now tap on "ola Share Pass" from menu .
Now Tap On Buy A New pass
Now You will See The Price of a pass (it must be rs. 59 for 5 rides)

at the bottom you will see option to Apply Refer Code
Enter refer Code :


FG29DE

(

You Must Enter the Code In order to Get Rs.100 cashback

)

After Putting refer code just Click on Buy Now.
You need to pay Rs.1 Using debit Card or credit card
Done, Yo has purchased Ola Cabs Share Pass.
Now Complete Any one Ride you will get Discount on your ride so just complete a small ride cost rs.25(use Coupon "GOCASHLESS" to get 20% cashback on Ola Money)
After Completion ride you shall get Rs. 100 cashback that you can use For next ola ride or you can transfer to bank account using ola Money app
Also Read : Coca-Cola Offer : Get upto Rs. 1000 Free Recharge with A Coca-Cola
Expired
How to Refer And Earn Rs. 100 for Each :-
From The Menu just click on Offers And Free Rides.
Copy your Share Code .
Ask your friend to Buy share pass and explain all Above steps or just simply refer to this article.
When HE Purchase And Ride you will Get Rs.100 no matter if he is an old user or New .
proof :-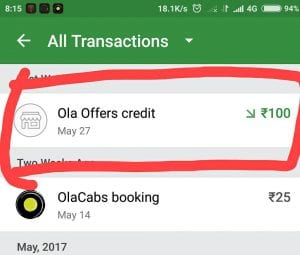 Terms & Conditions:
This is a limited period offer, valid between 5th June – 11th June, 2017.
Valid for purchase in Bengaluru, Delhi NCR, Mumbai, Kolkata, Hyderabad, Chennai, Pune, Chandigarh, Jaipur, Ahmedabad, Kochi, Guwahati, Nagpur, Lucknow, Ludhiana and Bhubaneswar
Rides of distance more than threshold kms will be charged at Micro rates.
Pass rides are not valid for airport rides
Validity of the pass is 30 days post activation
Minimum of normal share fare and pass fare would be applied. Example- if trip distance is 2kms and regular share fare is Rs30* then this ride will not count as pass ride, it will be a  normal share ride
Please check the app for applicable flat rates and threshold kms in your city
For detailed T&Cs please visit; https://help.olacabs.com/support
Ola reserves the right to withdraw/modify the offers at its own discretion
Not valid for currently active Share Pass users