Google pay Goa Event Answers, Google Pay Goa Answers, Google Pay 27 November All Answers – Hello Friends, Welcome back to bigtricks, I hope, You have completed Google Pay Go India Map & got Rs.500 from Google Pay-Go India Game, Google Pay is coming up with Events where you can Win Assured Scratch cards and Tickets and Kilometers. Jaipur Event, Mumbai Event and Hyderabad event are Recently over and people have grabbed Upto Rs.100 from each event By Giving 5 Correct answers.
Google Pay Go India Event is Extended till 26th December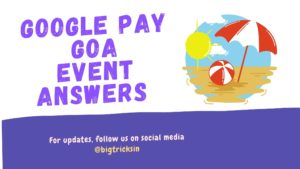 You can also win as there are just 5 questions which you need to answer correctly. Also, We are sharing Goa Tickets on our Telegram channel For Free So that you can visit Goa even if you don't have the ticket. keep checking our Telegram channel for realtime updates
Answers at the bottom of the Post 
Google Pay GO India "Goa" Event Answers
Please Note – Questions will be Random so First remember answers and then take the quiz
Answers: Please Remember Answer and Match the Options from below | Match Answers From Option, First Remember all the Answers and then Take the Quiz  
Answer: Gokarna
Answer: 2
Answer: Curries
Answer: Chapora fort
Answer: Never Install such software
Answer: Dudhsagar falls
Answer: Arpora night market
Answer: Sé Cathedral
Answer: Kokura juice
Answers: District 
Questions & Answers 
Question 1 – Which of the following forts is located in Goa?
Answer 1 – Chapora Fort
Question 2 – Which of the following is a popular Goan drink?
Answer 2 – Kokum juice
Question 3 – The church located in Goa is the largest church in Asia
Answer 3 – Se Cathedral
Question 4 – Which of this beach is not located in Goa?
Answer 4 – Gokarna beach
Question 5 – You get a call from a person promising you city tickets. The caller asks you to install a software share over SME and you can get any ticket that you want. You will
Answer 5 – Never Install any such software or app
How To Get Goa TIcket From Google Pay Go India
1. Open The GPay App 
2. Now Open Go India Map From Here
3. You will See the goa Event, Click on the event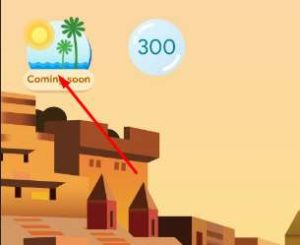 4. You will See it ask for share the event & Get Goa Ticket.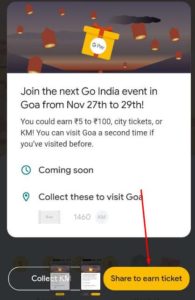 5. Just Click on it & press back
6. Congratulations! You Got Free Goa Ticket.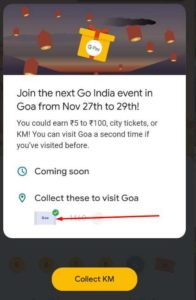 7.PRO –  Share the Goa Ticket via Link and Follow Above Steps Again To Get unlimited Goa Tickets 
---
You Can Get Goa TIcket by Sharing Goa Event Quiz Page on 27th November and You will Get the Required Ticket For Sure. If this does not work then Come to Bigtricks Telegram Channel,  We Post Daily 100s of Tickets so that you don't miss any. Check now
Comment Below How Much You Won From this Quiz, Answers Added Below the Post
This Event will be Live from 27th November, Only on Google Pay App
How To Participate in Google Pay Goa Event and Win Assured Cash
1. First of All, Download Google Pay and Visit Google Pay Go India Event.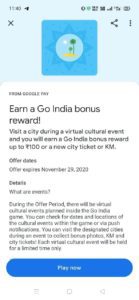 3. Now Open the Ticket & Follow Below Questions to Answer
4. The Answers of Google Pay Goa Event are Given Below
Alternative Ways to Collect GoaTickets in Google Pay Go India Game
You can Collect Jaipur Ticket in Google Pay Using following official methods
Send Money to a Friend
Buy Gold & Sell it
Share the Map 5 times a day
Merchant Payment