Hello Friends, Google Pay is Back with Mumbai Event and we are here with the answers of the quiz. Google Pay had 2 more events like this in Past in the Google Pay Go India Offer which are Dharamshala Event and Hyderabad Event. People are winning from Google Pay Map as well as such events and It's very good offer from Google Pay. You Can Win Rs.500 From Main map and Rs.100 from each Event and the offer will be live till 25th November so there will be many winning chances waiting for you So Let's See how to participate in Google Pay Go India Mumbai Event & Answers
How To Participate in Google Pay Mumbai Event
1. First of All, Download Google Pay and Visit Google Pay Go India Event.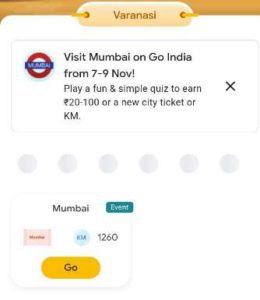 3. Now Open the Ticket & Follow Below Questions to Answer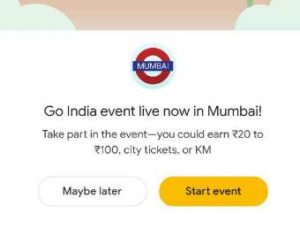 4. The Answers Are Given Below
Google Pay GO India Event Answers: Win Rs.20 to Rs.100
Please Note – Questions will be Random so First remember answers and then take the Quiz
1 :- Vada Sambhar
2 :- 7
3 :- Shivaji Park
4 :- South Mumbai
5 :- 2011 World Cup (50 Over)
6 :- Delivering Hot Launches to customers
7 :- Never Open G pay or Enter Upi Pin for Recive Money
8 :- Powai
9 :- Bandra Worli Sea
10 :- 7 Islands
Details of Quiz Answers
Q. Dabba wala provide you which service?
Answer – Delivering Hot Launches to customers
Q.marine drive is situated at ?
Answer – South Mumbai
Q. all the famous cricketers play at which ground
Answer: is Shivaji park
Q.which beach are not there in mumbai
Answer – Powai
Q.Wankande ground World cup which year
Answer – 2011 Worldcup 50 Overs
Q. Which one is not Maharashtrian special food?
Answer -vada Samber