Google Pay on Air Offer – Hello Friends, Google Pay 2020 Offer Was Just here Google Pay Launched another Offer where You can Get Scratch Card of Rs.1000(Any Amount) For Just Watching Ads & Just Share Audio on Google Pay App & Get assured Scratch Card with Assured Prize.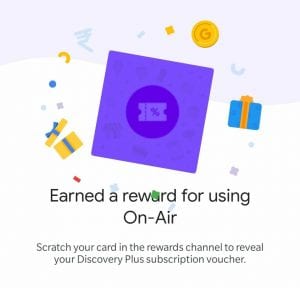 Currently, Google Pay on-air offer is live in All States State but There are chances that this offer will be live for other states also. If you are from Kerela then You can get this Offer Following below Steps.
What is Google Pay On- Air Offer –
Google Pay is Offering Maximum 2  Stamp  Scratch card for Just Watching 2 Youtube or TV ads & Scan it in Google Pay. These Scratch cards will have assured prizes. You can Win any Amount from ₹1-₹100. You just need to Open the onAir Option in Your Google Pay App & Let Google Pay Listen Ads. We have Added Links of Google Pay Ads.
How To Get Scratch Cards on Google Pay For Listening Google Pay Ads –
1. First of All Download Google Pay app from Playstore if You are New then Google Pay is offering Rs.21 on Signup & Rs.81 per Referral for the limited time period.
Download Google Pay Google Pay Ads Link
2. Now If You are from Kerela You can see the on Air Option next to Offers Button.

3. Now Click on it & Just listen to Google Pay Ads from Youtube or TV ( Samples below)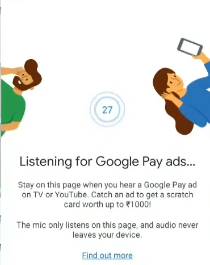 4. Now Once the Ad is Recognized by Google AI Algorithms, You will get assured Scratch card.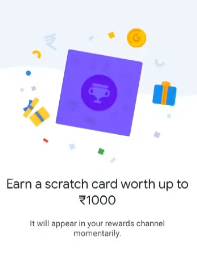 5. Repeat the 1-4 Steps again to Get another Scratch card of Rs. 1000 again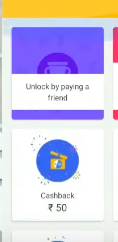 6. Now Check Your Rewards Section of the App and Scatch the Card to See your prize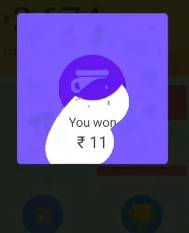 ---
Where You Can Find Google Pay Ads?
Now You don't need to search for Google ads we have Added the Google Pay Ads Playlist below
Terms & Conditions –
To participate in a Google Pay audio offer in Launch, you must turn on your Location History in your Google account settings.
To participate in a Google Pay audio offer, you must agree to these Terms and Conditions.
You can earn one scratch card each time you tune in to a qualifying ad, up to a maximum of two scratch cards each worth ten Indian Rupees  (INR 10) to one thousand Indian Rupees (INR 1000) during the offer period.
To redeem this offer, you must record an eligible Google Pay ad on television or YouTube. The list of eligible Google Pay ads for this offer include:

Any Google Pay ads running on television in India during the offer period
The ads currently live on this Google India YouTube playlist.
To identify the audio ad, we ask for permission to activate your microphone. Any generated recordings will be used only to identify your eligibility for this offer, and will be deleted immediately thereafter.

 Follow the steps below on how to capture an audio reward:

When you see a Google Pay ad running on television or YouTube (any ads on this Google India YouTube playlist), open the Google Pay app. On the home screen, tap the On-Air icon.
Allow Google Pay to access your microphone in order to listen to the ad.
The microphone only listens on this On-Air page, and the audio never leaves your device.
Bring your phone close to the audio and stay on the On-Air page for at least 20 seconds for the Google Pay app to obtain an accurate match.
If the app finds a positive match, you will earn a scratch card!

In the event that the audio cannot be identified by the Google Pay app, you can retry in an environment with less noise or increase the volume of the ad.
This offer will end on 2 December 2019 at 11.59 p.m. IST India Standard Time.
Each Google Pay customer can only use one set of Google Pay credentials, which includes but is not limited to a Google account, phone number and form of payment, to qualify for the offer. Any of these unique Google Pay credentials must not have been used to register another Google Pay account.
For each scratch card reward that you earn, you are eligible to earn up to Indian Rupees One Thousand (INR 1000).
You can earn a reward up to a total of nine thousand Indian Rupees (INR 9,000) per financial year (1 April to 31 March) across all Google Pay offers.
If you earn a reward, your reward money will be deposited into your bank account. As such, you must have a UPI-enabled savings account attached to your Google Pay account to receive payment from Google. Please make sure that you link your UPI-enabled savings account to your Google Pay account within 45 days of claiming the reward, failing which the reward will be deemed to be forfeited.
Employees, interns, contractors and office-holders, as well as their immediate families (parents, siblings, children, spouses and life partners of each, regardless of where they live) of Google LLC, its affiliates and subsidiaries, and any representatives or agencies of Google or other persons professionally connected with the offer are not eligible to participate.
You agree that your participation in the offer constitutes your understanding of and agreement to these offer terms and conditions. These offer terms and conditions form a binding legal agreement between you and Google with respect to the offers, and any defined terms used herein have the meaning set forth in the Google Pay Terms of Service.
Google reserves the right, at its sole discretion, to disqualify any User who does not meet the offer requirements or in case of reasons including but not limited to any misuse of the offer or fraud or suspicious transactions/activities. Google also reserves the right to discontinue or change any Google Pay offer or the Google Pay offer programme at any time, at its sole discretion.
This offer is subject to your compliance with the Google Pay Terms of Service.