Google Pay 2020 Offer
Google Pay 2020 Offer – Google Pay New Year Offer is here. This time You can win Rs.202 – Rs.2020 Cashback in Your Bank Accounts. This offer is Similar to the Google Pay Diwali offer. You need to Collect & Stamps Including Balloon, Dj, Sunglasses, Disco, Toffee, Selfie, Pizza. Checkout Trick to Collect All Stamps
You, Will, Get Bonus this time from google on Collecting Bottom Row 3 Stamps & Completing each row in this way. We Posted trick to get All Google Pay 2020 Stamps Without Spending money on it. Do Not Forget to Share Your Request or Gift Links to the Comment Section & Get Random Rewards from other Users. This offer is valid till 31st December 2019. Checkout Also Mobikwik Grand Slam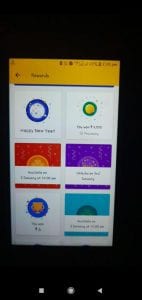 Must Read – Cred App Get Rs.150 on Signup + Get Assured Google Pay Stamp
What is Google Pay 2020 Game?
Google Pay is Comming up with a new Game to Earn Real cash of Rs.202 to Rs.2020 By Just Collecting 7 Stamps. The Game is going to start on 23rd December. You Can Collect Stamps By Doing Transactions Like Send Money to Friends, Merchant Payments, Recharge & Bill Payments & Referring to Your Friends. Daily 5 Stamps can be collected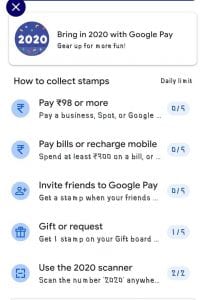 Collect All Stamps & Win Rs.202-2020 
How to Participate in Google Pay 2020 Offer & Collect All Stamps –
1. First of All Update Google Pay App From Playstore
2. Now Complete Your Signup process, Link Your bank Accounts.
3. Now on the Google Pay Homepage, You can Find the 2020 Offer icon.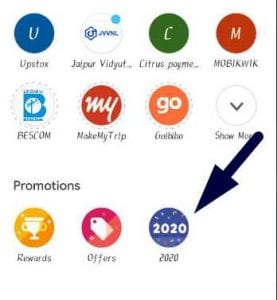 4. Open the Icon & You will see the offer Details.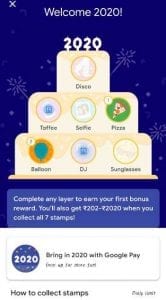 5. Now Collect All 7 Stamps & win assured Rs.202 to Rs.2020 Cashback Directly in Your Bank Account.
6. More Details & tricks on this offer will be Posted in Our Telegram Channel & This Page.
7. Keep Checking Regularly. The offer is Starting on 23rd December.
How to Collect Google Pay  2020 Rewards Multiple Times –
If you have Two Google Pay Accounts. You can Get 2020 Offer Multiple times in One account. You can Gift Your Rewards to another account using the gpay Gift feature.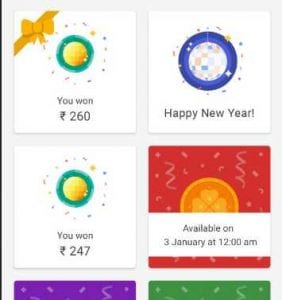 1. First of All Collect Stamps in Your One Google Pay Account.
2. You must have 1 extra Stamp for each Stamp.
3. Now Gift extra Stamps to Your Secondary Account.
4. Claim Gift in Second Account.
5. Now Don't scratch the Gift card. Just send it to Your main account.
6. Scratch it here to Get Rewards in Your Main Account/
---
Trick to Collect All 7 Google Pay 2020 Stamps & Complete the Cake
Toffee Stamp, Pizza Stamp, Sunglasses Stamp,

Selfie Stamp,

Balloon Stamp, DJ Stamp, and Disco Stamp
Best Method – Pay Your Credit Card bill on Cred App / Deposit Money in PayTM –
Using This Method Many People Got Rangoli in Google Pay Diwali offer You can also Get. Just Download Cred App or Deposit Money in PayTM Using Google Pay – Read More About Cred Join Telegram Channel For Instant Tricks [ many Got Rangoli with Our Tricks Last Time]
1. Download Cred App Download Now | Download PayTM app | Airtel Money App 
2. Now Pay Rs.98 or more Credit card bill Using Cred App. Choose the Payment method as Google Pay or Deposit Rs.98 in Your PayTM App or Deposit Rs.98 or More in Airtel App [ You can Transfer to Bank ]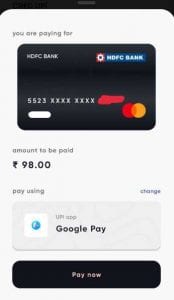 3. Make Rs.98 Payment in Google Pay. Done You will get a Stamp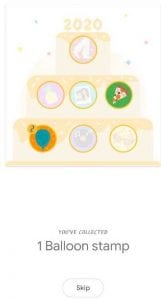 4. In this game, Balloon is equal to Diya.
---
How To Collect Google Pay Stamps By Merchant Payment –
You can Collect Google Pay 2020 Stamps By Paying to merchants. We have Already Posted about steps to Open the Google Pay Merchant account also. You can Open Google Pay Merchant Account on Your own. Now You just need to make Rs.98 Payment to any Merchant.
1. First of All Open Google Pay QR Scanner.
2. Scan any QR Code & Pay Rs.98 or More.
3. When You Pay Rs.98 or More You will Get a Stamp instantly.
4. In This Way, You can Collect a maximum of 5 Stamps Daily.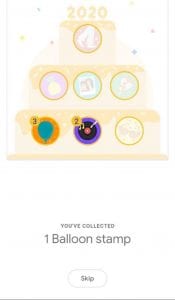 How To Collect Google Pay Stamps By Recharge & Bill Payments  –
1. Open Google Pay App.
2. Open Recharge Section & Enter The Mobile Number that You want to Recharge.
3. Pay Using UPI & You will Get Scratch Card at The Completion of Transaction.
Gift or Request Stamp –
You Can Gift Stamp to One of Your friends & Accept Stamp From Friends
When a friend accepts Your gift stamp from you will earn one stamp on your Gift board.
You can earn a maximum of 1 stamp per unique friend, and 5 stamps daily. If you gift multiple stamps to the same friend, you are only eligible for 1 bonus stamp no matter how many gifts that friend accepts.
Scan the number '2020' near you using the 2020 scanner
You Can Scan 2020 Images Nearby you & Earn Stamps. You can Get Maximum 2 Stamps for this task. Please visit here for 2020 Images.
Listen to On-Air ads –
You can listen to Google Ads on Your Android App of Google Pay & Get Free Stamps. Please Check this Post for All the Google Ads – Google Pay Listen Ads & Win Scratch Card
Remember –
For bill payments, the transaction amount must be ₹300.
 For mobile top-up, the transaction amount must be ₹98 or more.
You can collect a maximum of 5 stamps daily through this method.
Game Rules –
Collect all 7 different stamps to complete the cake by 31 Dec 2019 and get an assured gift from Google Pay.
You also earn 1 bonus reward per layer for any cake layer you complete. The more layers you complete, the more rewards you unlock!
Collect these assured stamps the first time you perform the following during the game period from 23 Dec 2019 – 31 Dec 2019:
– pay a bill (Toffee stamp),
– recharge your mobile (DJ stamp), or
– invite a friend to Google Pay who makes their first payment using your referral code (Pizza stamp).
See offer terms and conditions for details.
Other than the above, all other stamps will be variably distributed. You could collect any one of the 7 different stamps through the different collection methods.
There is a daily limit per collection method. See "How to collect stamps" section and full offer terms and conditions for details.
---
Terms & Conditions –
The 2020 lucky draw tickets will be drawn on 3 January 2019.
All scratch cards earned during this promotion period between 23 December 2019 – 31 December 2019 will unlock on 3 January 2020 to reveal your reward.
Each Google Pay customer can only use one set of Google Pay credentials, which includes but is not limited to a Google Account, phone number and form of payment, to qualify for the offer. Any of these unique Google Pay credentials must not have been used to register another Google Pay account.
You are not eligible for this offer if you have already earned over nine thousand Indian Rupees (INR 9,000) during this current fiscal year (1 April to 31 March) across all Google Pay offers.
In addition, if you win the two Lakh (2,00,000) or the twenty Lakh (20,000,000) reward through this offer, you will not be eligible for any other Google Pay offers for the remainder of the fiscal year.
If you earn the winning prize of two Lakh (2,00,000) or the twenty Lakh (20,000,000), when claiming your prize, you will need to provide your permanent account number and any other documents that Google may require for tax purposes.
Promotion period valid from 23 December 2019 – 31 December 2019.