Trick to Get Selfie Stamp in Google Pay 2020
Google Pay Stamps Tricks – Trick to Collect Selfie, Disco Stamp, Trick to Collect Selfie Stamp & other Rare Stamps from Google Pay. Hello, Friends welcome back again. We have already Posted about Google Pay's 2020 Offer. We are now posting about tricks to claim Your Bonus card for completing each Cake row & Trick to Get All rare Stamps.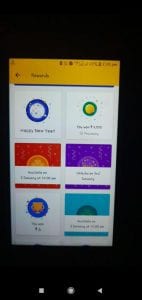 We have Verified some Methods to Collect Following Stamps and So Posting here. There are new Tricks so Make Sure You have Subscribed to Our Telegram Channel for Instant Updates on this. We Post New Tricks in Our Telegram Channel So Join Now
---
How to Claim Bonus Cards in Google Pay 2020 Offer –
Google Pay is Offering Bonus Cards for Completing Each Row. You Just Need to Collect all the Stamps of each Row & You will Get a Bonus Card of Your Choice which includes Rs.10-1000 Cashback Voucher. Zomato Voucher & Lucky Draw Voucher etc.
Steps to Claim bonus Cards in Google Pay –
1. First of All, Collect All the Stamps of 1 row Using the Below Methods.
2. Now Once You Collect One Row Stamps. Click on the Claim button.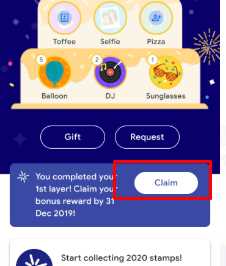 3. From the All available Scratch Cards. Choose Any Card that You want to Claim.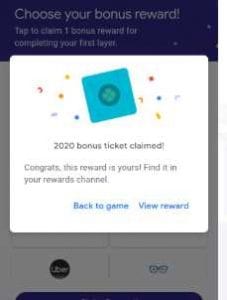 4. Done, Now You Can Get The Offer From Claimed Scratch Card on Specified time.
5. Rewards Increase for Each Layer. You will Get Rs.10-100 Cashback for First Layer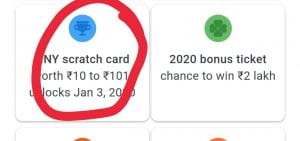 6. You will Get Rs.100-1000 Assured Cashback for Next Layer.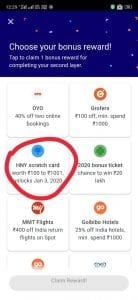 7. For Last Layer Claim Lucky Card where You can win Prizes worth Rs.20 lac.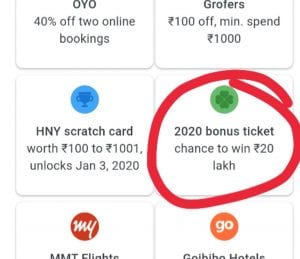 The trick to Collect Sunglasses & DJ Stamps –
You can Collect DJ Stamp & Sunglasses Stamp By Just Doing Rs.98 Payment to Merchants or Use Google Pay to Any App. If You don't want to spend money on this here is the trick. Just Open Airtel Payment Banks App[ If You have Account ] or Mobikwik App or Cred App [Best] & Deposit Rs.98 or More 5 Times. You can use Deposited money back.
For each Transaction, You will get a Stamp. Most of the time its Sunglasses or DJ.
---
Trick to Collect Selfie Stamp in Gpay –
You can Get Selfie Stamp Easily by Just Exchanging Very Rare Stamps. You don't need to do any Transaction. Just Collect Disco & Pizza using Below Methods & then Exchange Your Stamps With Your Friends. Our 5 Users from Bigtricks Telegram Group Got Selfie for exchanging Pizza & Toffee. You can Get Both of these Stamps by Just Exchanging & Paying Bills Using Google Pay App. I would recommend to Use Our Telegram Bot to Exchange your Stamps.
---
Trick to Collect Toffee Stamp –
Toffee is Second level Stamp & it's Rare to Collect. You can Get Toffee By Exchanging Gifts with Your Friends. If you don't have enough Friends then Please Send Your Gift Links to us @bigtricksbot on telegram & we will share it with our Subscribers & in Exchange You will Get Toffee, Pizza or Balloons.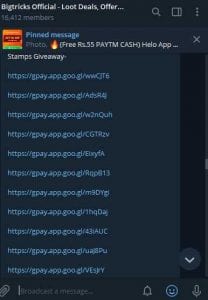 Tip – I Got a Toffee For Exchanging DJ Stamp with Friends [ Twice ]
Join Us – Click Here
---
Trick to Collect Disco Stamp –
Disco Stamp is Top Level Stamp & you won't get it for Doing Merchant Transaction or Listening to Google Pay Ads. You can Get Disco Stamp For Exchanging some Rare Stamp with Your Friends & Doing a DTH Recharge of Rs.98 or more.
Tip – We have Verified this Method with our Users & 3 People got Disco Stamp for Exchanging Pizza & Sunglasses 
---
Trick to Collect Baloon & Pizza –
You can Collect Balloon & Pizza Stamps By Listening to Google Pay Ads & Scanning Google Pay 2020 Images. You will Get 2 Chances Daily.