Hi Friends, you must be aware of Gpay cinema hall Floors' offer. You can read about Gpay Cricket Stadium Floors offer. We are publishing offers to collect floors for the Cricket stadium.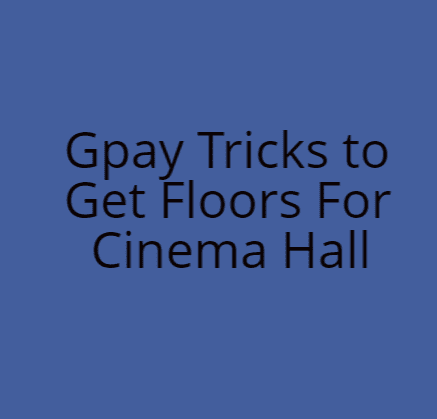 You can collect quickly build 300+ floors by using the below methods. The best thing is you can create a team of 4 people so it would be easier to build the floors. You can keep completing the floors and building the cinema hall floors and earn Upto ₹200 cashback.
Below are the tricks to collect the Gpay cinema hall floors
A. Scan QR Code
You can scan the QR Code and earn up to 10 floors for your cinema hall, You just open Your QR code scanner in the game.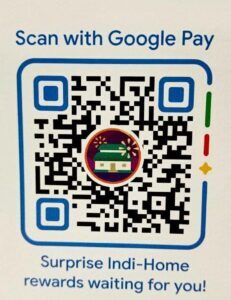 You can try this trick up to 2 times and earn extra floors.
---
1. Scan Your Face
You can scan Your face with some expression and get up to 10 floors for free instantly
Steps:
1. Click on quick tasks , scan face
2. You will get free floors
3. repeat 2-3 times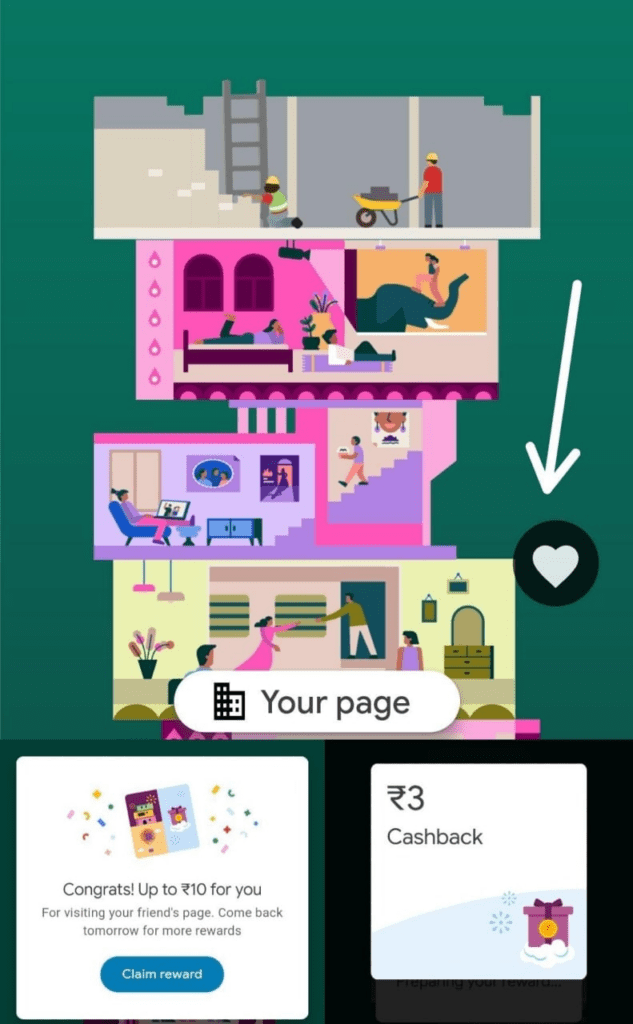 ---
2. Visit Friend's Building & Earn up to Rs.10 Cashback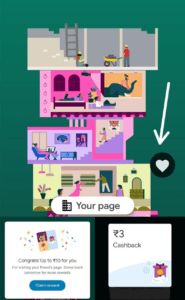 You can copy your link and share it with friends, when they visit your building, you will earn free floors and you will earn assured Rs.1 – 10 cashback. For sharing your link join our telegram channel and comment there
3. Share with Friends & Get up to 100 Friends
Share the stadium link with your friends and invite them to visit your stadium and for each unique friend, You will get floors like below
| | |
| --- | --- |
| 1 friend | 5 floors |
| 10 friends | 10 floors |
| 20 friends | 30 floors |
| 50 friends | 50 floors |
| 100 friends | 75 floors |
4. Pay someone, Do a bank transfer or Pay Online & Get 2 Floors
You can send money of Rs.30 or more and get 2 floors daily.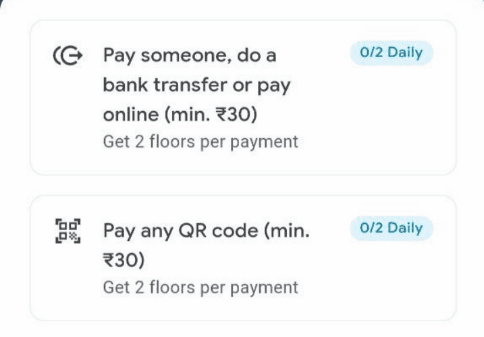 5. Pay to any QR Code & Get 2 Floors
Similarly, Get 2 floors to scan & pay or Rs.30 or more
6. Recharge or Bill Payment to get 25 floors
You can recharge or bill payment to get flat 25 floors and the minimum payment must be of Rs.30 or more

7. Split an Expense & Earn 2 Floors for Gpay Stadium
You can share expenses with your friends and earn 30 stadium floors for the split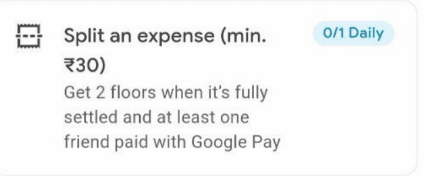 ---