Gpay Diwali Mela Offer, Gpay Diwali Mela Floor Tricks
Gpay Food Market Offer – Like Every year, Gpay is back with one more Gpay Diwali Offer, This year you can win Rs.300 cashback for building a house using different tasks on gpay and earn assured cashback. This offer is for all users and you just need to perform some gpay tasks like payments to different merchants, sharing Happy Diwali with friends and so to get the free floor gift.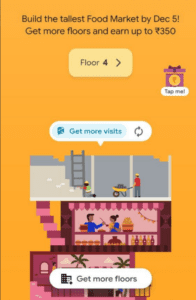 Increase the floors of your house and increase the chances of earning gpay Cashback. In this game, You can build House Solo or in a team at the end of every round, you will earn rewards based on your team's ranking. Team rewards will be evenly distributed among each member. Make sure you have the latest version of the Google Pay app to see all campaign features.
Gpay Build The Tallest Food Market Rewards: Round 3
| | | |
| --- | --- | --- |
| Rank | Rewards | Distribution |
| Rank 1 | 50,000 | ₹200/team/person[solo] |
| Rank | 50,000 to 2 Lakh | ₹80/team |
| Rank | 2 Lakh to 5 Lakh | ₹50/team |
Round 4: Build Tallest Food Market & Win up to ₹350 Cashback
Round 4 on Google Pay is live, Now you can earn up to ₹350 cashback for doing tasks on gpay. you need to collect the floors in the game, the highest floors collector will win assured cashback and also midway tasks and rewards
1-10000 teams – 350 Rupees per team
10000 – 1lakh teams – 90 Rupees per team
1lakh – 8 lakhs teams – 30 Rupees per team
You can scan QR Codes, Food items to get up to 20 floors daily. you can ask friends to visit your Food market and earn free floors. You can use Telegram Group for exchanging Links.
Additionally, You can build daily floors and earn 2X booster until the end of the round.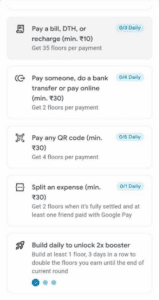 ---
Round 2: Build Tallest Cinema Hall & win Upto ₹350 Cashback
The Round starts and ends till 20th November 2022, You need to build highest floors of your hall and earn assured cashback. The prizes are as follows
1-10000 teams – 350 Rupees per team
10000 – 1lakh teams – 90 Rupees per team
1lakh – 8 lakhs teams – 30 Rupees per team
---
You can scan a happy face with an expression to earn free first 2 floors, complete other tasks to earn more.
You can pay your friends and earn 2 extra floors.
VIsit Your friend's Hall and earn Upto Rs.1 – 10 cashback instantly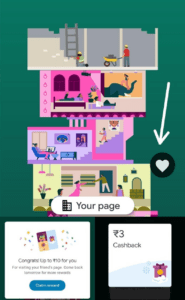 Follow Tricks to Collect More FLoors in Gpay Offer
Tricks to collect floors in Gpay
---
[ NEW ] Build Tallest Stadium Round 2 Details :
Round 2 is here, Starting from October 30, to November 9.
Now Everything is Similar, You need to collect Floors and build the tallest stadium
You can win Rs.200/team
You can build a Team up to 4 Members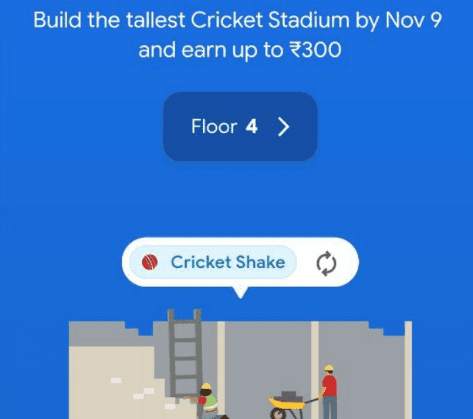 ---
How to play Gpay Diwali Game: Build the Tallest structure
1. FIrst of all download gpay or ignore this step if you already have gpay on your device.
2. Now click on Indi-home option from the last bottom option or click below the link

3. Now, click on the welcome tasks to collect initial floors.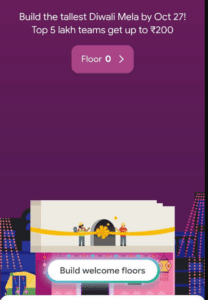 4. Now start scanning diays and complete other tasks to earn floors.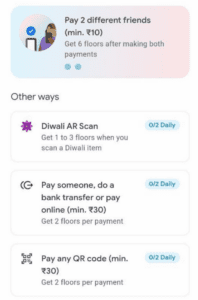 5. You can collect floors for the round by 27th October.
6. First 5 Lakh teams will win assured cashback up to Rs.200
7. You can complete tasks like sharing the game with friends, Sharing expenses, making merchant payments etc. to earn the floors.
---
Tricks To Build Floors in Gpay
#1 Scan QR Code to Build Surprise Floors
You can scan the below QR code from Gpay and you can earn surprise floors, Some people got more than 50 Floors. I have got 21 floors. You need to use the Gpay Payment QR Scanner to scan the below QR Code.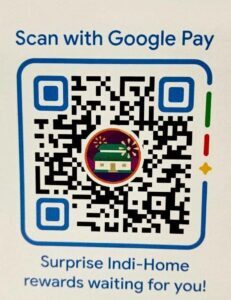 The interesting part is You can scan the QR Code which means you will earn up to 100 Floors with easy steps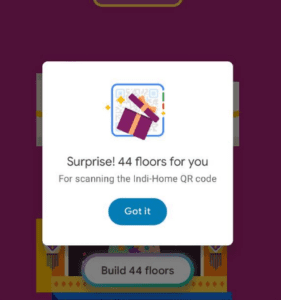 ---
#2 Wish Happy Diwali To Teammates & Score Floors
You can wish your teammates Happy Diwali and collect a few floors for every wish, you can earn up to 3 friends. So You will collect up to 10 floors easily by this method.
---
---