Hello Friends, Gpay has extended its Indi-home Offer with Gpa Gully cricket, you can now collect all the stickers and earn free up to ₹201, You can collect cards by completing various tasks on gpay.

You can also exchange your cards and earn rare cards, Similar to Gpay Diwali Offer and Gpay Happy New Year Offer. You can give your extra card to our address which is below
How To Play Google Indi Home Game Gully Cricket & Earn Assured Cashback from Scratch Cards
1. First of all download Gpay's latest version and use the below link to visit the gPay indi home game.
2. Now click on the Gully cricket option from here.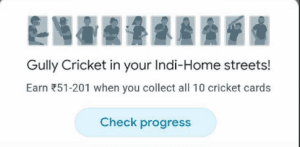 3. Now start completing tasks and start earning free Gpay Gully cricket cards.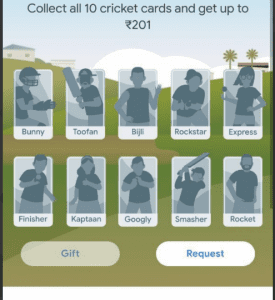 4. Once you have all the 10 cards, you will earn up to ₹201
5. You can also send/receive gifts from friends to earn more scratch cards.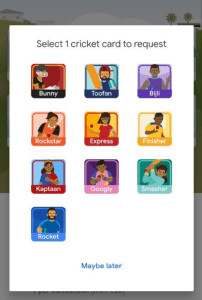 6. Comment , Your Exchange links below to exchange with others
---
---
How can you earn a cricket card?
You can earn cricket cards by taking the following actions on Google Pay:
Make a transaction of ₹30+ on Google Pay

Send money to your friends or family, do a successful bank transfer or pay a merchant online. Valid for the first 2 successful transactions in a day.
Scan a QR code and pay merchants offline. Valid for the first 3 successful transactions in a day.
Pay a bill or do a mobile recharge. Valid for the first 4 successful transactions in a day.

Gift a cricket card to your friends. Valid for first 3 unique friends only in a day
Complete a house in Indi-Home. Valid for 1 house completion per day
Play Energy Rain in Indi-Home.
Gpay Gpay Cards Giveaway
Express
Bijli
Rockstar
Rocket
https://gpay.app.goo.gl/MVTxsp
Gpay Gully Cricket terms & Conditions
ully Cricket rewards would be given once all your eligible transactions are successful.
Any rewards you earn will be added to your rewards channel.
Scratch cards you receive will expire after 45 days if not scratched.
Any cashback you earn will be added to your UPI-enabled bank account linked to Google Pay. Your cashback will expire after 45 days if you do not have an account linked, or if issues with your linked account prevent cashback from being added.
You can earn up to a total of ₹9,000 per financial year (1 April to 31 March), across all Google Pay offers.
The total number of qualifying transactions you can make as well as their amount is subject to applicable law, banking/payment system rules, merchant terms, and/or Google Pay terms.
If you haven't collected all Gully Cricket cricket cards by the time the game ends, that does not constitute a basis for canceling or refunding transactions you may have already made for which you earned stamps or other rewards.
---