PayTM Happydent White Offer, PayTM Happident White Redeem Page, PayTM Happident Add Money Link: Hello Friends, We hope you are enjoying free recharge tricks and offers from us, We recently published Kitkat Amazon Prime Offer Where You were getting Free Amazon Prime with Kitkat.

Now There is New Offer From happydent white where you can win Assured Rs. 5 to Rs.50 any Amount of PayTM Cash from an Rs.5 Happydent White Packet, You can Visit your nearby stores or Supermart to grab the offer, This is another similar offer like PayTM Munch Nuts Offer, PayTM Doublemint offer and Other Freebies
The Pack will come with a PayTM Add Money Code Which You can redeem Using following Steps and Add to payTm Wallet instantly.
Offer Highlights
Happydent White Pack of Rs.5 Comes with Rs.5 to Rs.50 PayTM Cash
You Can Win Rs 5/- Or Rs. 10/- Or Rs. 20/- Or Rs. 50/- Paytm Cashback
Maximum of 1 code per mobile number, per Paytm registered account can be used on Paytm Promo Website per user during the promotion period.
Offer Valid till 31/03/2021
How To Redeem Happydent White PayTM Cash Code
1. First of All, You need to Buy Pack From Online Stores or Nearby Supermart or Kirana Stores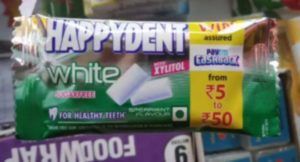 2. Now tear the pack and you will find a 7 digit coupon code inside it.
3. Now SMS HDOFFER <space> Voucher Code to 9902391200
4. Once You send the Code, A Voucher will be sent to your inbox instantly which can be added to PayTM With the Amount
5. You will also get the Amount that You won from the Code, Now Visit PayTM Add Money page and Enter the Voucher Code in the Promo Section you receive and amount
6. Done, You will get Cashback Instantly in Your PayTM Wallet or Maximum in 24 Hours
From Where You Can Buy Happydent White Online
---
Terms & Conditions for Paytm Cashback Voucher From Happydent White:
This offer entitles the consumer Rs 5/- Or Rs. 10/- Or Rs. 20/- Or Rs. 50/- Paytm Cashback on Paytm Website / APP.
By using the unique code provided inside the crown of the Promo pack or redeeming the Offer provided on the same, a participant agrees to be bound by the terms and conditions below ("Conditions").
These Conditions apply to every person ("Participant") redeeming the offer given by The Promoter, no claim shall lie for any redemption requests made after the expiry of the Offer Period.
The code is valid once per user.
Maximum of 1 code per mobile number, per Paytm registered account can be used on Paytm Promo Website per user during the promotion period.
Amount credited to your Paytm Wallet can be redeemed within 30 days from date of credit and is non-transferable.
Offer is Valid for transactions made at paytm.com or on the Paytm App.
If you are not a Paytm registered customer, you will be required to register on Paytm website or Paytm Mobile App to receive your Paytm cashback.
All Participants agrees that Paytm offering cashback vouchers may at any time stipulate additional terms and conditions for redemption of cashback vouchers and such terms and conditions shall be binding on the Participants and shall apply to every redemption of recharge/discount coupons by the Participants.
Paytm holds the right to refuse transactions deemed fraudulent as per Paytm policies.
In the event of any fraud detection Paytm reserve the right to modify/change, discontinue, terminate, withdraw the Offer at any time during the Offer Period. In such cases, Perfetti Van Melle India Pvt Ltd or The Promoter or its partner agency will not be held liable for any issues relating to the redemption of the coupon including redemption request not being honored by Paytm.
The Participant acknowledges that relevant state and central taxes may be deducted by the merchant while redeeming the discount offer and therefore, the amount reflected in the coupon may not be the same as the final redemption value received by the Participant.
In no event shall the maximum liability exceed the value of the Paytm cashback Voucher of Rs. 5 or Rs. 10 or Rs. 20 or Rs. 50 as may be applicable.
Any disputes or differences in connection with the offer shall be governed by laws of India and shall be subject to the exclusive jurisdiction of the Courts of Bangalore.
Paytm reserve the right to restrict cashback for any account with suspicious behavior or invalid details/credentials. Paytm/BigCity Promotions has the right to ask for documents to prove the customer/user identity.
This offer is subject to promotional availability.
Offer Valid till 31/03/2021