Free EyeGlasses From Lenskart Sale 
Lenskart Free Eyeglasses Offer – Hi Guys, We have looted Many Free Eyeglasses From Coolwinks under 100% Cashback offer and Free Frames From lenskart with TOI Contest and Now We are Sharing Other Free Tricks to Order Free Glasses From Lenskart. The Below Offers are Working on Lenakrt
Lenskart Corporate Offer – Get Glasses Worth Rs.1500 for Free From Lenskart
1. First of All, Download Lenskart App From Below Link as this offer is for New User or Use New Email
Click on Below Link and enter Your Email to Get the Rs.999 Off Coupon | Visit Lenskart Coupon Claim
Now Enter email and You will Get a Unique Mail on Your mail ID. Use New Email Which is not registered on Lenskart
2. Now, You need to Signup & Use Below Referral Code & Create new Account.
Refer Code – SONU8OTG
3. You need to Click below Lenskart Corporate Glasses Link and Open the Page
Link |    | Lenskart Corporate Free Trial Link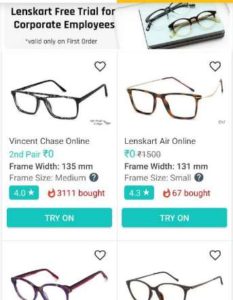 4. You Can Check all the Available Glasses & Frames in Lenskart Under this Offer.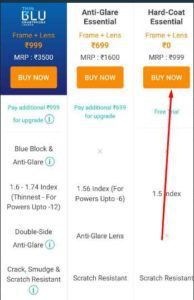 5. Once You have Searched add the Fame to Cart.
6. Now You need to Pay Just Rs.199 as Delivery Charges.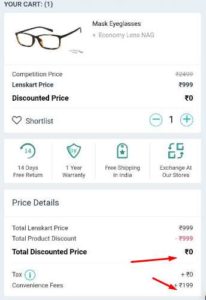 7. Now You can pay using any method to Lenskart & you got Free Glasses.
---
Lenskart free EyeGlasses, Lenskart Freedom Contest – Hello Freinds, I hope you have looted Lenskart Gold Membership For Free and Now We have New Offer For Our Looters, You can Get a Free Eyeglasses From Lenskart Freedom Sale Contest. The Another Freebie is also live where you can get free Contact lenses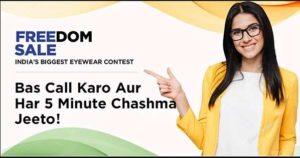 All You have to do is Just a Missed call & Few Whatsapp Messages. We have added process to get Free Eyeglasses from Lenskart below. Just Follow and You may win Free Eyeglasses, Every 5 Minutes there will be a winner.
How To Get Free Eyeglasses From Lenskart :
1. First of All Lenskart Toll-Free Number [ Just Give a Missed Call ]
Lenskart Free Eyeglasses – 1800-111-123
2. Now, Once You called, You will get an SMS with a Whatsapp Chat Link. If You didn't receive a message the click here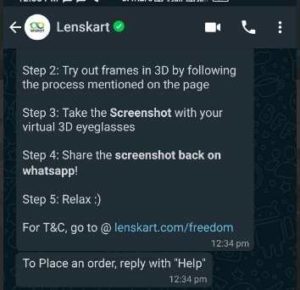 3. Now Open it and click on the First link to COmpare Looks by Trying 3D Frame Try.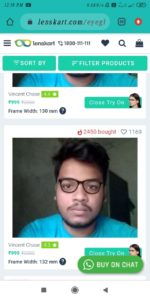 4. Now, Take Screenshot of Your Face with 3D Virtual Glasses and send it to the Lenskart Chat.
5. Done, if You are the lucky user, You will Get Assured Eyeglasses from Lenskart.
6. If You are a Winner, You will Get An SMS
---
Lenskart Freedom Contest Terms & Conditions –
1. The sale is open to all Indian citizens of 18 years of age or more residing in India, except the employees of Lenskart/Company. This Offer is not valid in the state of Tamil Nadu
2. By choosing to participate in this sale, the Participant hereby confirms that he/she has studied these detailed Terms and Conditions and agrees to be bound by the same.
3. Sale offer starts from 9 AM IST on 14th August 2020 and ends at 4:00 PM IST on 23rd August 2020 ("Sale Period"), both the dates inclusive.
4. No purchase is mandatory. Participation is optional. To participate in the Sale Offer, the Participants have to submit their entries through the timeline on the Lenskart Website.
5. To participate and mark their entry, the Participants have to give a missed call on 1800-111-123 and share their Name & Ditto Picture on the link received through SMS.
6. Only one entry/winner will be chosen/accepted per phone number. However, multiple entries from the same phone number are permitted. The Company shall choose the entries basis the creativity and skill in the entries' Ditto pictures.
7. Winners will be announced every 1 hour from the Sale start date, that is, 14th August 2020. This excludes time from 12 AM-9 AM each day, during the duration of the sale.
8. The winners will be announced on Lenskart's website and Instagram page and will be contacted by the representatives of the Company/organizers on the contact details provided by the winner. In case the winner is not traceable, the organizers have the sole discretion to either forfeit the prize or to pass on the prize to the next best entry.
9. Vouchers will be shared with all winners within 24-48 hours of winning via SMS and email. The validity of the vouchers of the winners will be until the end of the next day. For the participants, the vouchers will expire in 3 hours from the receipt of the voucher. For the winners announced at 11 pm, the vouchers will be valid till 10 am of the next day. No return or cancellation allowed on zero value orders. These terms and conditions shall be governed by the Indian law and jurisdiction for all disputes arising out of or in connection with these terms and conditions shall remain exclusively with courts at New Delhi.
10. Every person who desires to avail the Sale offer may do so pursuant to independent inquiry, investigation and analysis and shall not have any claim against Lenskart, its employees, directors, representatives or affiliates whatsoever by reason of any loss which may be suffered by such person consequent to or in connection with the sale, whether by reason of anything stated or omitted to be stated herein.
11. Lenskart reserves the right to amend or modify these terms by giving prior intimation of the same to the consultants.
12. The decision of Lenskart as to the selection of winners of the Sale offer shall be final and binding.
13. For more information or queries, get in touch here: support@lenskart.com