Hp Jio Offer: Recently You had Seen Relience Jio Preview Offer For Samsung Phones Now Jio In association With Hp  Giving Free Jio 4 g Sim Along With Jiofi Devices .You have to Pay Only For Jiofi Device And You Will Get Free Sim Slong With 90 Days Preview offer
Reliance LYF 4G Smart Phone for just 2999₹ + 3 Months free Unlimited 4G Access & Voice calls
What the customer needs to do is register to the HP activation page on Jio.com website and then the invite code would be sent to the email address of the customer. This code has to be produced at the Reliance Digital store to get the free SIM card with three months of Preview Offer that includes free calls, SMS, and data.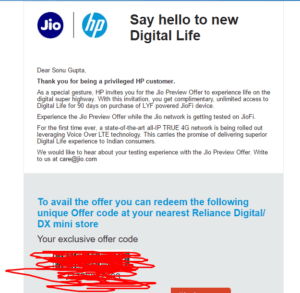 The Jio Preview Offer can be availed only on purchase of LYF powered JioFi device." is what it says and you will have to purchase a JioFi device, which is priced at Rs. 2899, unlike the Rs. 1999 price that was mentioned when the JioFi device was launched. It is possible that this is a newer JioFi model. For making calls, you will need to use the JioJoin app.
*Update* Trick To Get Free Jio 4G sim For All Devices With Unlimited Call+ Data For 3 Month
How to avail the HP JIO  offer
1. The HP users will receive a message and an email from HP about the offer. The email or message will contain a unique referral code.
2. Customers will visit the Reliance DX Mini or Reliance Digital stores with the unique referral code to avail the offer.(Check Your Nearby Stores)
3. The referral code will be scanned and if the validation is successful, then the JioFi device will be invoiced to them at a retail price of Rs 2,899. In case the validation is not successful, the user will not be given a JioFi device.
 4.Customer will need to fill a KYC form and submit an address proof and an identity proof before getting their JioFi device.The customer can apply for either prepaid or postpaid services.
5. The referral code will be used to activate the sim and the JioFi plan.
6. Customer will get a call on their registered number for tele-verification within 7 days of getting the device.
7.AsSoon As You get the call you will able to complete verification process.
What you need to know About HP Jio Offer :
The invite is valid up to the date mentioned above.
The invite is non-transferable. You can avail the Jio Preview Offer in your name only.
The Jio Preview Offer can be availed on purchase of LYF powered JioFi device only.
Post the offer period, Jio commercial tariff plan shall be applicable*.
Special features and specification of Jio Fi :-
Bigtricks Alerts : Join Our Whatsapp Broadcasting List And Never Miss A Deal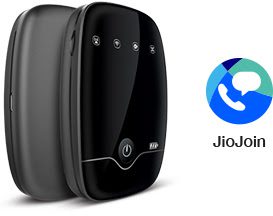 ● VoLTE calls and app to app sharing possible.
● Can host upto 31 devices simultaneously.
● Has 6 hours of battery backup and is fully charged within 3 hours.
● Comes in 3 colours; Red, Blue and Black.
● Priced at Rs 2,899 only
*Update* Trick To Get Free Jio 4G sim For All Devices With Unlimited Call+ Data For 3 Month
Join our Broadcast list