Jio Removed IUC Charges From 1st January 2021
---

Hello Friends, If You are one of our telegram Follower then you must know that Jio is now charging 6 Paise Per Minute from Jio Users on Calling from Jio to Non-Jio Users. We are here will discuss it in detail about it.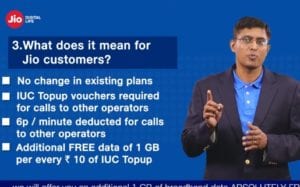 Jio Today has added a new Press Conference in which they have announced about New IUC Charges. Jio will Now Charge You for making Outgoing Calls to another network as Rs.0.6 Per Minute and also Compensate it By Giving You 1 GB Data For Rs.10 ( Rs.10 IUC Top-Up)
What is IUC –
IUC Stands for Inter Usage Charge. This Charge has to be paid by Every Telecom Company to Other Companies for Every Outgoing Call The Charges as of now is 6Paise per Minute. This means when you call someone Jio is Paying 6 Paise to that person's Telecom Company. These Charges are Fixed by TRAI. Jio has Paid Rs.13000 Crores till date from Last 3 years as IUC Cost and ongoing Cost is around Rs.200 Crores per month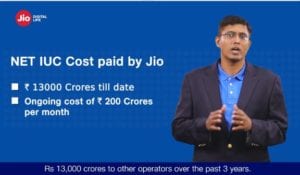 In September, TRAI finally decided to eliminate the IUC Charges by January 2020 but before 3 months ago TRAI has extended IUC Charges even Further so now JIo is not Paying this amount from its resources  and this fees are levied on Customers itself So Now Customers will Pay the IUC Fee
So All Outgoing from Jio to Non-Jio Operator You will be charged around 6 paise per minute.

Jio's Compensation For IUC Charges –
Jio Will now Offer You additional Free data of 1 GB per every Rs.10 IUC Topup which means 10 GB for Rs.100 IUC Top-up that You Consume so There is No Increase in any Tariff Plans. Also, Jio Promised that They will remove this fee if TRAI eliminates this fee from operators.
So Hope for the Good Guys, This fee may not last long. Now Let's See How You can save this IUC Fee.
You Can Read Official Jio Statement From Here – Click here
How To Save IUC Fee –
You must have watched the Official video from Jio where they told You can Save the IUC fee by Making more of Whatsapp Video Calls or Google Duo Video Calls like service they are free and provide good experiences or you can call to your loved one on their Jio Number. In Summary, You Can Save on IUC Charges By Doing Following Steps.
Use Google Duo or Whatsapp Call Like Services.
Do Call on Jio Numbers of Your Friends.
Invite Your Friends & Family to Jio Network
What are new Jio Plans With IUC Charges & Update –
Now You can't Use Jio Balance to Activate Plans which have IUC Charges included. you Can Still recharge with Main balance for Non IUC Plans and this is Big update because if you have amount in Your main balance You can use it for only Jio Data booster like plans. 
Jio Also Removed Full Talk-time from Rs.100 & higher plans.
Jio has updated the Plans List in MyJio App. You can check there. There is still doubt What happen for the plans which are in pending as soon as we get the update we will notify you via our telegram channel. So Be active for Such Updates.
---
Conclusion –
I understand the Word Free calling ends here but it's not permanent. jio is right on their side they were waiting since September 2017 to get eliminate these charges and so they are paying these charges. Jio has to Pay 6 paisa to other operators and they are only asking this amount from customers not more than that So 6 paisa/minute is not much for you Guys also they are offering 1 GB free data on Rs.10 Top-up. So Overall this is net – net same.