Mi Pay UPIRefer & Earn – MiPay is Now offering Upto Rs.1000 on Signup & First Transaction if You Enter Referral Code. Also Upto Rs.1000 Per Referral. You will Get-Random amount Scratch Card where You can Get Rs.10 or More and Similarly Rs.10-1000 Per Referral on Your Referral's First UPI Transaction.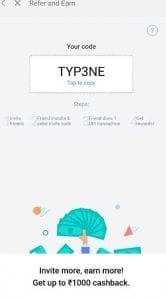 Rewards in Scratch Card –
(i) ₹5,
(ii) ₹10,
(iii) ₹50,
(iv) ₹100,
(v) ₹500
(vi) ₹1000.
How To Get Upto Rs.1000 on signup on MiPay UPI –
1. First of All Download MIPay UPI App From Playstore –
2. Now Here Open the App & provide All Permissions & Click on Claim Invite Code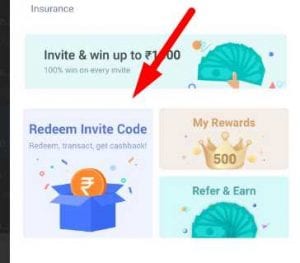 3. Open App & Click on Redeem Invite Code.
4. Enter Invite Code as

TYP3NE
5. Now Enter Your Mobile Number.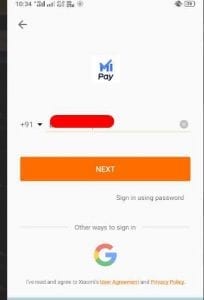 6. Verify Your Mobile Number Using OTP.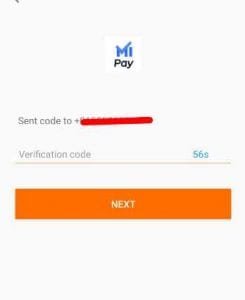 7. Select Sim & send Verification SMS
8. Now Once Your UPI is Setup > Proceed to Do the First transaction to Claim Your First Scratch Card.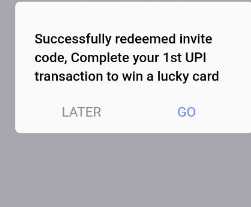 9. Now Click on My Rewards & Here You can Find The Scratch Card.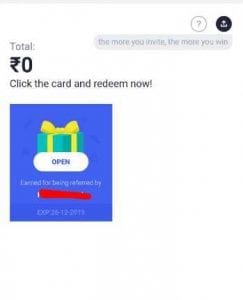 10. Scratch it. The Money Won will be Credited to UPI within 3 Days.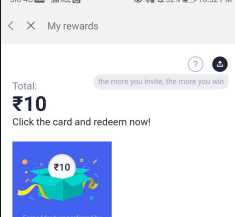 Proof –
---
Terms & Conditions –
Mi Pay Refer and Earn Terms and Conditions
The 'Mi Pay Refer and Earn' ("Contest") is conducted by Xiaomi Technology India Private Limited ("Xiaomi") on the Mi Pay mobile application ("Mi Pay").
How to Participate
1. Each Mi Pay user ("Referrer") can invite others ("Referee") to register on Mi Pay by sharing a unique code ("Referral Code") available on the Contest page.
2. The Referrer and the Referee will receive a lucky card ("Card") after the Referee has registered on Mi Pay using the Referral Code and completed one (1) UPI transaction successfully, within twenty-four (24) hours of such transaction.
3. A single user shall not use multiple mobile phone numbers, Mi account IDs or UPI IDs to participate in this Contest.
Prizes to Be Won
Each user stands a chance to win any one of the following amounts as cashback, through a random draw of lots:
(i) ₹5,
(ii) ₹10,
(iii) ₹50,
(iv) ₹100,
(v) ₹500, or
(vi) ₹1000.
How to Redeem the Cards
1. If a user wins a Card, it will be available on the "Rewards" section of Mi Pay. Users can click on an unused Card to reveal the prize amount, which will be credited to the bank account linked to a user's UPI ID within 2-3 working days. Please ensure that your UPI ID is active and remain unchanged till the prize amount has been credited into your account.
2. All Cards have to be redeemed within seven (7) days (7*24 hours) of receipt. Any Cards that have not been redeemed within this period shall be deemed to have been forfeited.
3. Any query related to the Cards should be raised within seven (7) days of the successful transaction.
Contest Period
The Contest will be held on Mi Pay from 19th Dec 2019 (00:00:00 IST), and last until such period as may be decided by Xiaomi.
Internet and Data Issues
Please make sure that your internet connection is stable during the Contest. If you win, do not clear the Mi Pay app data/browser data before you receive your prize. We shall not be responsible for any issues regarding prizes that are caused by clearing the Mi Pay app data or signing out of your Mi Account.
Other Terms and Conditions
1. You acknowledge and agree that your participation in this Contest is subject to these terms and conditions ('Terms') and you agree to be bound by the same.
2. For the purpose of these Terms, wherever the context so requires, "you" or "user" shall mean any natural or legal person who has agreed to participate in this Contest. The term "Xiaomi", "we", "us", "our" shall mean Xiaomi and its affiliates.
3. Participation in this Contest is open to only those users of Mi Pay who:
(i) can form legally binding contracts under Indian Contract Act, 1872. Persons who are "incompetent to contract" within the meaning of the Indian Contract Act, 1872 including minors, un-discharged insolvents etc. are not eligible to use Mi Pay. If you are a minor i.e. under the age of 18 years, you shall not transact on or use Mi Pay. As a minor if you wish to use or transact on Mi Pay, such use or transaction may be made by your legal guardian or parents on Mi Pay. Xiaomi reserves the right to refuse to provide You with access to Mi Pay if it is brought to Xiaomi's notice or if it is discovered that you are under the age of 18 years;
(ii) have a valid and existing Mi account; and
(iii) are residing in India.
4. Employees of Xiaomi and its affiliates, their immediate family members (spouses, domestic partners, parents, grandparents, siblings, children and grandchildren), and employees of Xiaomi's advertising agencies and Contest partners are not eligible to participate in this Contest.
5. Conducting this Contest is prohibited in the state of Tamil Nadu and thus, users residing in the state of Tamil Nadu are not eligible to participate in this Contest.
6. Providing consent to Correspondence Information Processing:
(i) You will not be required to share any information with Xiaomi except where you win a prize, in which case you will have to share your email ID and mobile ("Correspondence Information"). No information other than the Correspondence Information shall be furn
ished by you to Xiaomi and Xiaomi assumes or undertakes no liability for any loss or damage suffered as a result of the use or misuse of such information.
(ii) Xiaomi shall collect and store your Correspondence Information to: (a) comply with Xiaomi's obligations under law; and (b) deliver the prizes to you in accordance with these Terms.
(iii) Xiaomi does not for any reason whatsoever sell your Correspondence Information to any third party.
(iv) Xiaomi will delete the Correspondence Information upon fulfilling its obligations under these Terms.
7. No Cheating
Cheating ruins the activity experience for legitimate users and will not be tolerated. If you are caught cheating, by registering different accounts on the same phone or using cheating programs or by adopting any other suspicious or fraudulent means, you will be disqualified and you will not win any prizes. Xiaomi's decision shall be final and binding in this regard.
8. Miscellaneous
(i) Use/access of Mi Pay is subject to the terms of use and privacy policy of Mi Pay.
(ii) Xiaomi reserves the right of final decision on the interpretation of these Terms in the event of any Users finding them unclear.
(iii) All correspondence related to the Contest will be made by Xiaomi through its email ID mipayofficial@xiaomi.com only. Users are advised not to provide their details to calls/emails from any other ID and Xiaomi will have no liability in relation thereto.
(iv) You shall indemnify and hold harmless Xiaomi and its officers, directors, agents, and employees, from any claim or demand, or actions including reasonable attorneys' fees, made by any third party or penalty imposed due to or arising out of your breach of these Terms.
(v) Xiaomi shall not be liable for any loss or damage due to act of God, governmental actions, force majeure circumstances, or any other reason beyond its control, and shall not be liable to pay any monetary compensation or otherwise for the same.
(vi) IN NO EVENT SHALL XIAOMI BE LIABLE FOR ANY SPECIAL, INCIDENTAL, INDIRECT OR CONSEQUENTIAL DAMAGES OF ANY KIND IN CONNECTION WITH THESE TERMS, EVEN IF XIAOMI HAS BEEN INFORMED IN ADVANCE OF THE POSSIBILITY OF SUCH DAMAGES. To the maximum extent that is permissible under law, Xiaomi's liability shall be limited to INR 1000.
(vii) Xiaomi reserves the right at its sole discretion to withdraw, cancel, amend, or modify any part of or the entire Contest at any time without any notice and Xiaomi will have no liability in relation thereto.
(viii) These Terms shall be governed and construed in accordance with the laws of India. Any dispute arising out of or in connection with these Terms shall be subject to the sole jurisdiction of the courts at Bangalore, India.
9. For any questions with respect to this Contest, please contact us at service.in@xiaomi.com, or 18002586286.