Netmeds Free Thyroid Offer – Netmeds is Offering Free thyroid Test. You Just need to fill the Details & Submit it. You will Get Free Thyroid-Stimulating Hormone (TSH) TEST for FREE!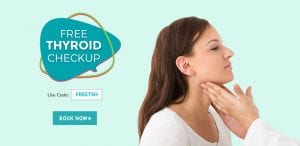 How to Get Free Thyroid Checkup –
1. First of all Just Visit Netmeds Offer Page
2. Now Click on Book Now Button & Enter Your Details.
3. Now Select TSH Test From List
4. Enter Common Details ( Name, Age, Gender etc. )
5. Schedule Test Time
6. Apply Coupon Code: FREETSH -The Fee Become to Zero
7. Now Submit & Complete the Registration.
Terms and Conditions – Thyroid-Stimulating Hormone (TSH) TEST for FREE!
The following Terms and Conditions constitute the Agreement ("The Agreement") between Netmeds.com ("We, Our or Us") and the customer ("You"). You are urged to read the terms and conditions carefully and to email any questions that may arise to our Customer Support Team at support_diagnostics@netmeds.com. Please note that all the customers availing the offer are subject to the following terms and conditions:
OFFER:
Under this offer, ALL customers can avail Thyroid-Stimulating Hormone (TSH) test for FREE using the coupon code FREETSH – No payment is required! Offer valid ONLY on TSH test offered by any pathology labs.
PLEASE NOTE: This offer is valid on the bookings made on Netmeds app/m-site. As part of this offer, FREE home sample collection will be done by the lab technician.
Customers who avail this offer MUST provide us with a valid address to facilitate the sample collection by our logistics partner.
The coupon code FREETSH is valid only when TSH test alone is selected for the booking in one transaction. Please note that you can book other tests or packages, if any, separately in subsequent transaction.
OFFER DATE: Until 31st March 2020.
OFFER AVAILABILITY: This offer is valid on serviceable pin codes only, and is applicable only on the pathology labs offering TSH test.
HOW THE OFFER WORKS: Log in to your Netmeds app, click on Lab tests, choose & add TSH test (offered by pathology labs) to your cart, fill in the required details, apply the code FREETSH in the Order Review page, and avail the test absolutely FREE! Sample will be collected as per your chosen time slot and report will be generated and emailed to you within 48 to 72 hours of sample collection.
CANCELLATION: Cancellation of the booking can be done only within 12 hours before the scheduled sample collection time slot chosen by a customer. Refund cannot be made once the sample is collected.
We strongly urge you to consult your doctor prior to seeking the lab services under this offer.
If the third-party Lab (or our logistics partner), under this offer, does not show up at your home, you can contact us at support_diagnostics@netmeds.com
The third-party lab alone shall be liable for their actions, dealings and interaction with the Users who avail their services.
Netmeds shall have no liability or responsibility in this regard in whatsoever manner it maybe.
Netmeds does not guarantee or make any representation with respect to the correctness, completeness or accuracy of the tests conducted and reports generated by ANY lab, which has been booked by the Netmeds customers on Netmes App/m-site under this offer.
Netmeds won't be liable for any delay caused in sample collection, report generation or any other untoward/unprecedented events in connection with the Services offered by the Third-party Labs associated with Netmeds. Netmeds will endeavour to maintain best of the services; however, we cannot guarantee the quality of the services offered by the Third-party Labs under any circumstances.
Netmeds reserves the right to amend these terms and conditions from time to time without any prior notice to you. Any such amendments we make shall be effective once we post a revised version of these Terms and Conditions on the App. It is your responsibility to review the Terms and Conditions posted herein regularly. Your continued use of the App following the publication of any such changes will constitute your agreement to follow and be automatically bound by the amended terms and conditions.
These Terms of Service will be governed by and construed in accordance with the laws of India without regard to its conflicts of law provisions. Any failure on the part of Netmeds.com to enforce or exercise any provision of this Agreement or related right shall not constitute a waiver of that right or provision.
In the case of a conflict between these terms and the terms of any electronic or machine-readable statement or policy, these Terms of Service shall prevail. Similarly, in case of a conflict between these terms and our Privacy Policy, these Terms of Service shall prevail.
All disputes involving but not limited to rights conferred, compensation, refunds, and other claims will be resolved through a two-step Alternate Dispute Resolution ("ADR") mechanism. It is further agreed to by the Parties that the contents of this Section shall survive even after the termination or expiry of the Terms and/or Policy.
Mediation: In case of any dispute between the parties, the Parties will attempt to resolve the same amicably amongst themselves, to the mutual satisfaction of both Parties. In the event that the Parties are unable to reach such an amicable solution within thirty (30) days of one Party communicating the existence of a dispute to the other Party, the dispute will be resolved by arbitration, as detailed here in below;
In the event that the Parties are unable to amicably resolve a dispute by mediation, said dispute will be referred to arbitration by a sole arbitrator to be appointed by the Company, and the award passed by such sole arbitrator will be valid and binding on both Parties. The Parties shall bear their own costs for the proceedings, although the sole arbitrator may, in his/her sole discretion, direct either Party to bear the entire cost of the proceedings. The arbitration shall be conducted in English, and the seat of Arbitration shall be the city of Chennai in the state of Tamil Nadu, India.
The Parties expressly agree that the Terms, Policy and any other agreements entered into between the Parties are governed by the laws, rules and regulations of India, and that the Courts at Chennai shall have exclusive jurisdiction over any disputes arising between the Parties.
Netmeds' decision shall be final and binding in all circumstances with respect to the matters relating to the offer.
Netmeds is not responsible for any failed transactions as part of this offer NOR liable for any failures relating to technical, hardware, software, server, website, or other issues of any kind to the extent that these may prevent the Customer from participating in this offer.
By availing this offer, it is deemed that the customer has agreed to all the terms & conditions mentioned herein.
These Terms and Conditions and your use of this Website/App and its content will be governed by and construed in all respects in accordance with the laws of India subject to the jurisdictional courts of Chennai.