PlayIt Collect 5 Cards & Win Rs.1 Crore
PLAYit App Referral Code, PLAYit Refer & Earn, PLAYit App Collect Cards Offer, Trick To Collect Cards In PLAYit App, Collect Playit Health & Safety Card? How To Collect Playit Purple Card, Collect Career & Growth Card, How To Collect Playit Career Growth Card? – Hello Friends, Last Time We Posted About Google Pay Diwali Offer and Google Pay Rangoli Offer Where You Collect Stickers and Win Real Money the Same Offer is From PlayIT App. You Can Collect 5 Cards and Win Upto Rs.10 Million.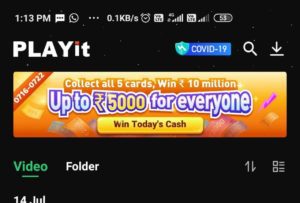 The Withdrawal proof is Not available Yet. You can Give it a Try and Collect all 5 Cards and Scratch It. You Can Win Any Amount Upto Rs.1000.
Playit is an All in One Player, Where You Can Play any Audio or Video File without any issue or problem, You Can Earn Money With Playit Collect Card offer. The Payment is Instant and We have added Proof Below
Trick to Get Purple Card –
As Shared By Most of the users, You Can Get a Purple Card By Listening 2 Songs. 
PlayIt Collect Cards & Win PayTM Cash –
| App Name | PlayIt |
| --- | --- |
| Rewards | Upto 10 Million |
| Rare Cards | Health & Safety, Career & Growth |
| How To Get Cards | Comment Below |
Send Us Extra Cards to Get Extra Card-
Link to Share – Click Here
Or you Can Comment Below
How To Signup On PlayIT App & Win Upto 10 Million –
1. First of All Visit below link to Download the PlayIt App
2. Now, Once You Download Open the App, No Login is required.
3. You Can See the Banner on the Top of App.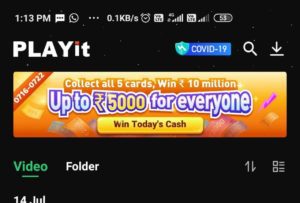 4. Click on it and Open the Page, Here You can Scratch Two Free Cards.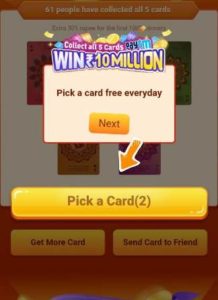 5. You Can Enter Below Referral Code to Get Extra 1 Free Card.
gej2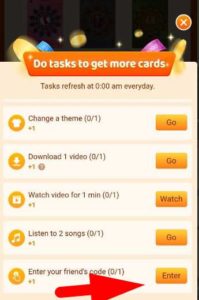 6. Just click on GET MORE CARDS and Check the Bottom Option to Enter Referral Code.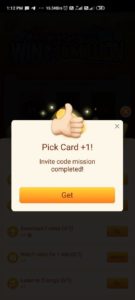 7. Once You Enter the Referral Code, You Will Get 1 Free Card So This Way You have a total of 3 Cards.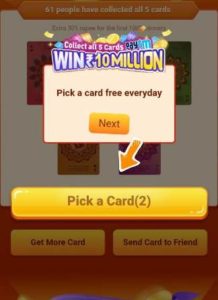 8. Now Refer Your Friends and Earn More Extra Cards.
9. You Can Redeem Instantly. Here is Proof –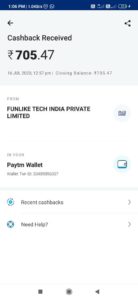 Rare Cards – You Need to Collect Career & Growth and Health and Safety Cards Which are Rare.
PlayIt Unlimited Trick –
You Can Use Any Clonner or Second Space to Create Clone of the App and Refer Unlimited times later clear the App data and Reprocess.
There is No Need of Login or Signup So It's Unlimited Times. 
How To Get Health & Safety Card in Playit  –
You Can Get Health and Safety Card in Playit By Performing Following Tasks
Refer Your Friends and Ask them to Use Your Referral Code.
Play Video for A Minute in PlayIt App
Share Your Extra Card With Your Friend or With Us.
Comment Your Extra card Link in Comments Box.
We will Keep You Updated with latest PlayIt Card Tricks to Our Telegram Channel
---
Green Card & Pink Card Health and Safety Card Giveaway
17th July Purple Card Trick – How To Get Purple Card –
Most People Commented that They Got Purple Card By Listening 2 Songs. You Can Also Try To Listen to 2 Songs and Get Purple or Health & safety Card
Extra Rewards
1. ₹501- Win Extra
The first 1000 winners to collect all 5 cards will receive an additional cash reward of ₹501.
2.₹101
The user rank after 1000 with the last three digits 101 can win extra ₹101.
Terms & Conditions –
1.Activity time: July 16, 2020 10:00 am – July 22, 2020 24:00 pm
2.Users can collect all 5 card ['love', 'health & safety', 'wealth', 'career growth' and 'happy family' ] through the card drawing.
3.System will give one card drawing opportunity every day, and would be given only when users enter the activity page.
4.Users can earn draw chance by completing tasks. User can invite 100 friends and send card to friend once per day. Other missions can only be done once during the whole activity.
5.You can give cards to your friends and also ask your friend to send you cards
6.Users can only send the cards they have to others, the amount of card would be less no matter your friend receive or not, and the receive link would expire after other users receive or the activity is over.
7.Users who collect a whole set of ['love', 'health & safety', 'wealth', 'career growth' and 'happy family' ] cards can carve up 10 million Rs and immediately get a random cash reward. The same mobile phone number/ account/ device/ IP can only get cash reward one time.
8.The amount of cash you win is related to the time it takes to collect cards. The earlier you collect, the more cash rewards you get. The first 1000 users will receive an additional cash reward of ₹501. If you rank after 1000 with the last three digits 101, you can win extra ₹101.
9.Users need to share activity posters 3 times, pass the mobile phone number and personal information (including paytm account) verification before withdrawing cash. Users need to apply for withdrawal befor the event over. The event would be closed at the end of the event.
10.The bonus would be received within 1-15 work days after withdraw, please kindly check. if you have any other questions, please check FAQ.
11.If the user uninstalls PLAYit APP during the event and the event data and bonus are lost, PLAYit will not bear any responsibility.
12.The final interpretation of the activity is vested in PLAYit.