As the government considers cryptocurrency as property, it is subject to taxation. This means it's mandatory for crypto traders to report their capital gains and losses to the Internal Revenue Service (IRS) or whichever government authority is in charge of tax.Checkout –
CoinDCX Free Rs.500 Bitcoins
Estimating and filing your crypto tax reports can be a hectic part of a crypto trader's year. Your crypto tax depends on the number of transactions or trade you have performed throughout all the cryptocurrency exchanges you're involved in. You will have to go through each and every single transaction and record many other factors such as your fair market value and the time the trade took place, which proves to be an extremely tedious process.This is where crypto tax software comes into play. By using crypto tax software, you can easily calculate your crypto taxes in a fraction of the time and avoid the chance of introducing human error. It's so easy, you can just link your crypto accounts to the software, and with a few clicks, it will automatically start processing all your trade and transactions and 
calculate your crypto tax
.
Crypto tax softwares also comes with report generation functions
, where the software will fill out and generate your crypto tax reports which are ready to be submitted to the tax authorities.Here are some noteworthy tax softwares used by the connoisseurs of cryptocurrency traders:
TokenTax
Ranked the best cryptocurrency tax reporting platform by Forbes, TokenTax is known for its user-friendliness and is a favorite amongst traders looking to calculate and file their capital gains and income tax reports. TokenTax is compatible with every major cryptocurrency exchange and has the functionality of directly feeding in data from your various currency exchanges. There's no need to export and import each csv file or trading data which makes this software extremely convenient.
After you have fed in the necessary inputs, TokenTax will process and auto-generate all the documents and forms needed to report your cryptocurrency tax. Reports like 
form 8949
, FATCA, FBAR and other formats that you may require are available for you to generate.
TaxBit
TaxBit is a crypto tax software created by tax lawyers and certified public accountants. This is a comprehensive tool that provides you with your entire audit trail so you can go through every single one of your transactions. Using these reports, your CPA or tax official can accurately audit your tax history. TaxBit is compatible with all well-known and widely used cryptocurrency exchanges.
CryptoTrader.Tax
This crypto tax software helps users calculate their tax and generate their capital gains and capital loss report in a matter of minutes. CryptoTrader.Tax provides an extremely user-friendly platform for traders to compute their crypto tax while ensuring that they do not overpay.CryptoTrader.A tax directly supports more than 20 of the major cryptocurrency exchanges. Coinbase, Gemini, Poloniex, Bittrex, and Binance are some of the many exchanges supported in this software. If you aren't directly compatible, you can always upload your trading data by using CrypoTrader's exchange template.
Once you've imported all your data, CryptoTrader will process your transactions and determine your tax liability by using the 'first-in, first-out' method that public accountants and tax officials use to prepare their reports.After all the calculations are done, CryptoTrader.Tax allows you to generate and export all the tax reporting documents you need to file for tax. CryptoTrader.Tax also provides users with an 'audit trail', which is essential a report which lists out every calculation done in your tax report in order to determine your proceeds and cost basis. This also comes along with an income, closing positions, and short and long term sales reports.CryptoTrader.Tax works with TurboTax, so once users have generated their cryptocurrency tax reports they can directly file them with TurboTax.
BearTax
Another crypto tax software that is known for its 'easy to navigate' platform is BearTax. This is an incredibly simple and user-friendly software that allows traders to calculate their tax with no stress.BearTax supports over 25 cryptocurrency exchanges and can calculate on your 'capital gains' and 'capital losses' and generate tax reports that are ready to be filed.
This easy-to-use platform offers a range of functions. BearTax's 'smart matching' system allows users to easily link their trading information from various exchanges into BearTax's interface. This system is comprehensive when it comes to processing your reports and helps you avoid negative balances which could lead to inaccuracies in your tax reports. The platform also shows you details about all your trading activities, the date you purchased, sold or traded currency along with its tax liability.
ZenLedger
Another top contender in the 'user-friendly' and 'comprehensive' aspects of crypto tax software, ZenLedger is extremely easy to navigate and with just a few clicks, you can get all your tax reporting documents created and ready to be filed. ZenLedger is also compatible with all major cryptocurrency exchanges and supports fiat currencies as well.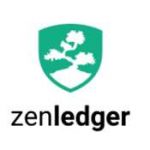 You can import your trading history from any of the supported currency exchanges and proceed to automatically calculate and prepare the documents needed to file for your taxes. Zenledger provides; capital gains/loss reports, donation reports, and income and closing reports. You also have the added feature of generating your profit/loss statement if required by your accountant or tax official.ZenLedger is fully IRS-compliant, which means all your tax returns reports and documents are geared towards IRS documentation so you will have no hassle with your tax calculations and tax returns. ZenLedger also ensures you never overpay on your taxes.If you are going to use a crypto tax software for the first time, ZenLedger is a good place to start