ByBit Referral Code

BGZ9RY
Free Rs.1 Lakh Bitcoins Proof, free Crypto From bybit, bybit deposit procedure Bybit Signup Offer, Bybit refer and earn, bybit app offer – Hello friends, Remember Huobi Doge Airdrop where everyone got free ₹1400 Doge coins. A similar loot is here, you can earn free 25$ and refer friends to earn 20$ more.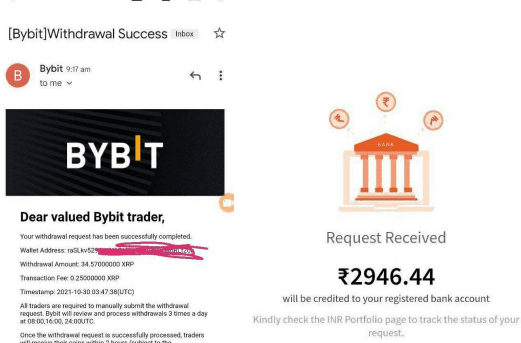 Bybit is offering signup rewards worth 500 on transactions and trading for a new user. you need to complete a trading volume of $200 [ don't worry we have a trick ] and once you did the trading, you will get $40 + $5 in derivative accounts. We have added proof of withdrawal worth Rs.82,000 in wazirX. This loot is working so grab fast before it expires
Also Try: CoinDCX Promo Code, CoinDCX Referral Code
ByBit Referral Code to Earn Free $50
New Bybit Offer : Free $50 + 20 on Signup & Trading
1. First of all signup on to Bybit using the below link and complete the setup account.
2. Now click on the below link to activate the $50 Bonus offer.

3. Now, You can click on the register button and enrol yourself.
4. Now deposit $50 worth of tokens
(Only Deposit – BTC, ETH, BIT, USDT, XRP, DOGE, DOT, EOS, LTC, XLM, AAVE, AXS, CHZ, COMP, DYDX, LINK, MANA, MKR, SUSHI, UNI, YFI)
5. Tip: Use CoinDCX To Transfer USDT [ TRC20 ] for low fees.
6. Now trade for 50$ in any pair For example USDT/ LTC and then again LTC->USDT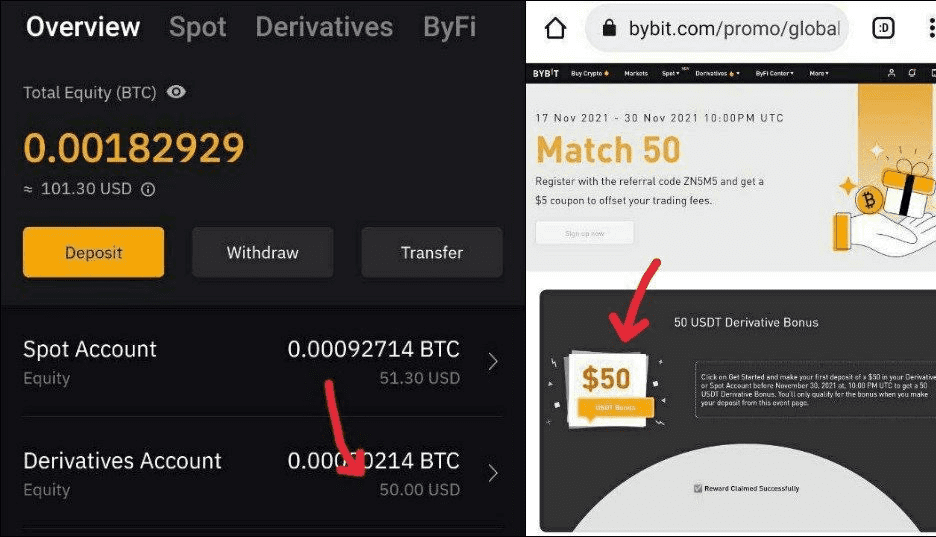 7. You will get free 50$ in your derivative account, You can use the balance like the steps below.
How To Earn free ₹3600 from ByBit
Update : Transfer LTC/XLM/XRP to Bybit wallet and do trading of 200$ with that amount to earn free 25$ Bonus
1. First of all click on the below link to signup on Bybit website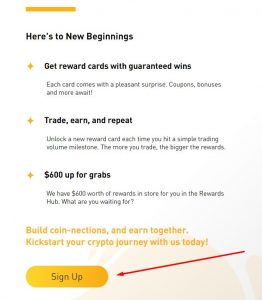 Choose No from the popup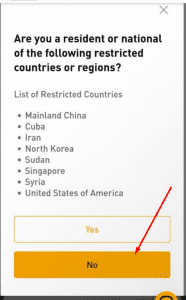 2. Signup with the Bybit referral code to get the offer.
Bybit referral code is BGZ9RY
3. Now once you signup, you can download the Bybit app using the below link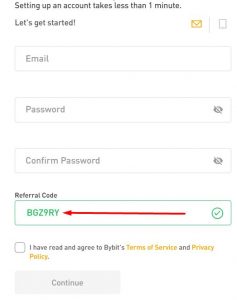 4. Verify email address and complete the signup process.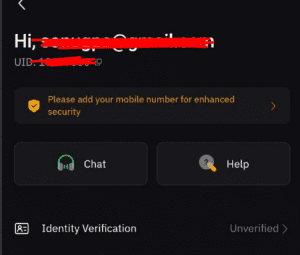 5. Download the Bybit app from playstore and log in with the same credentials.
6. Click on Profile avatar and move to the KYC section. [ No Compulsory ]
7. Now complete Level 1 KYC by uploading your Adhaar& Selfie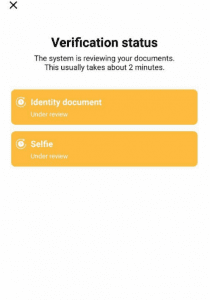 8. it will take only 2 minutes to complete the KYC.
9. Now move to any app like CoinDCX, WazirX, Coinswitch, Vauld and deposit 20-30$ worth of XRP / XLM in your exchange wallet.
Deposit USDT TRC20 as other coins are not working Charge Rs.7 | Deposit Procedure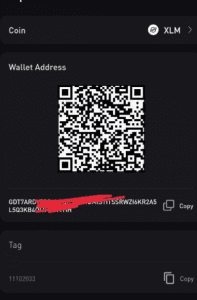 10. Now suppose you deposit 20$ worth of XLM/ USDT in Coindcx, now copy Bybit XLM or XRP or ADA or KLAY wallet address.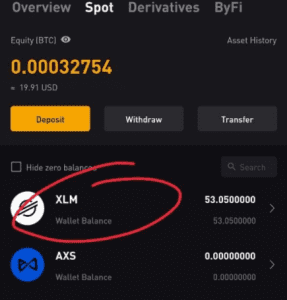 11. Send all XLM [ Or the coin that you deposit ] to the Bybit wallet with its address. You will receive it in 30 minutes maximum
12. Now in bybit when you receive the 10$ XLM, you can move to trade pairs. you can trade XLM>USDT and do 20 transactions to complete a trading volume of 200$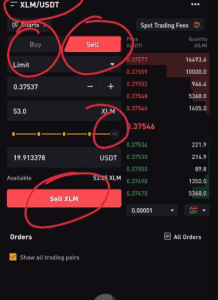 13. when you complete 200$ volumes, you will get 20$ in the account of the derivative. If you don't get to do 1 more transaction.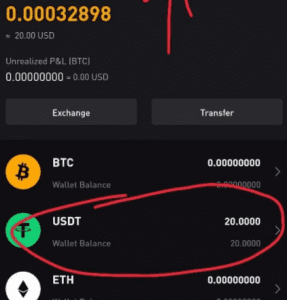 14. Now move to the rewards section of the Bybit app and you can see a scratch card.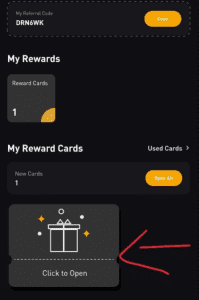 15. Upon scratch you will get 5-500$ more and so you have got your original deposit wallet as well as 25$ extra. [ Many People have got 500$ Directly ]
16. You will get the bonus in Derivative wallet , Now follow below process to convert Derivative to Spot wallet and the video of also added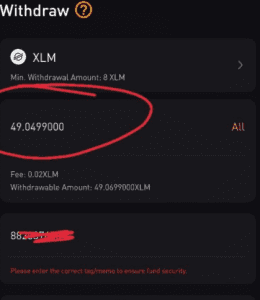 16. Now, move all the amount to back Coindcx or any Indian exchange wallet.
17 From here, you can withdraw the whole amount to your bank account.
18. Withdrawal may take some time. You can also send us & get real cash

---
How To Use the Bonus of 25$
You will get 25$ in the Derivative account, You can click on the middle tab where you need to exchange this with any Crypto trading pair. You can predict whether this will go up or down based on that prediction you will earn profit. that profit is withdrawal. Video Posted in telegram channel
1. Let's suppose you have 20$ in USDT derivative
2. Now go to the derivative tab from the centre bottom.
3. Now trade in any pair like SHIB/USDT, SAND/USDT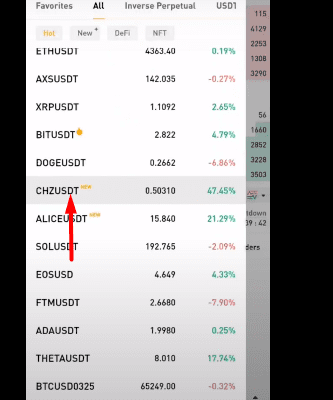 4. Place 50% Long and 50% Short, So your 10$ will be on short and 10$ on long.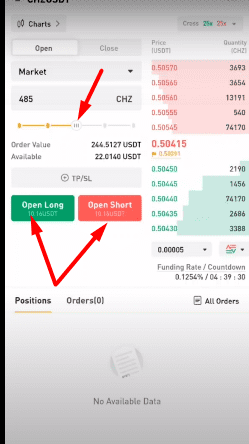 5. Now one of the trade will be positive and one will be negative.
6. Once the profit is 10% around sell both the trade.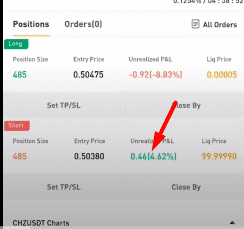 7. Do not wait for more else they will be liquidated.
8. Now transfer the Derivative USDT to Spot balance every time tour trade is complete.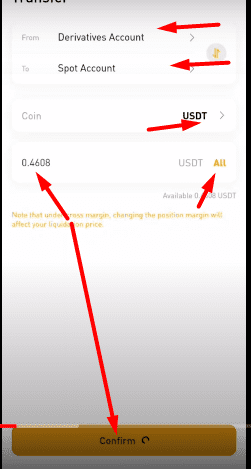 9. Follow the process until all the amount is on the spot. Follow the video for more
ByBit Double Referral Bonus Activation Steps
1. First of all check the 2X referral bonus from the home screen.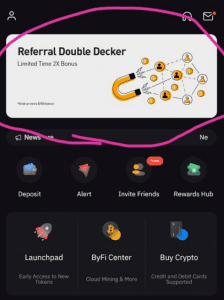 2. Click on it and now, A blog will open.
3. Click on the register button to activate the bonus.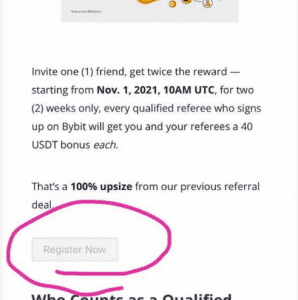 4. Now from 15th November you will get a 2X bonus for all referrals from 1Nov to 15th Nov.
[Event Over ] Bybit 40$ Airdrop for KLAY tokens
After offering 25$ on signup and an extra 20$ after 15th November, You can now earn up to 40$ on a deposit of CLAY tokens minimum 10, You need to trade of $200 in Spot balance and you will earn free up to 40$.
1. first of all deposit 10 KLAY worth amount in wazirX [ 1 KLAY = Rs.136 == Deposit Rs.1400 ]
2. Now Please note KLAY is available on WazirX but its wallet is under maintenance.
3. So You need to link your WazirX wallet with Binance.
4. Inside funds [ use WazirX desktop ] you will see transfer funds to Binance

5. Transfer to Binance and there will be USDT, Buy KLAY From here.
6. Now transfer KLAY to ByBit wallet.
7. In ByBit do trading of 200$ [ Buy USDT-> Buy KLAY again ]
8. Once you complete the trading in 15 days you will get the airdrop bonus.
9. now use derivative trading to transfer the bonus back to wallet.
---
Bybit Withdrawal Proof