Unblock Freecharge Account : in this post I will share How To Unblock Freecharge account . if you are continuosly misusing Freecharge or Due to any Suspicious activity Your account may get blocked . On login Page You will Get Error Like : "User Is Disabled this Function is Not allowed".Here I gonna to Post Official Freecharge Method to Unblock your Freecharge Account .You must now Why your Account get blocked on free charge .There are some reason for blocking your account .We HAve also Posted how to unblock Blocked Paytm Account .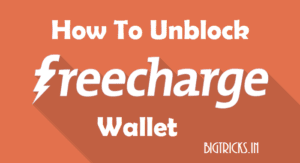 Reasons of Blocking Freecharge account :-
Using Multiple Account In Same or One Device .
Using Same Debit or Credit Card In Multiple Account .
adding or Trying to add money Using Scripts .
Using Carding that is illegal may cause in blocking Your account.
Any of the  Above May be reason for your account blocking by Freecharge . You can Follow Below Steps To Unblock your Freecharge Account easily . In case You don't have money in blocked account i'll recommend you to Create a New Paytm account with different Number and email id.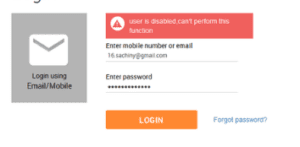 Steps To Unblock Your Freecharge Account :-
You Must know your email ID for this Processor .
Login To Your Email Account And Compose a Mail .
Address it to care@freecharge.com.
Subject Line Should be "Request To Unblock Freecharge Account".
Type In the Message if You Probably
know the Reason for the same .
Provide Email id and Mobile Number for the account .
Remember To Attach Your Bank Statement From Which you add Money To Freecharge Account .
Attach Any ID Proof For Faster Processor .
Done, Send It , Within 2-7 Days You will Get Reply from them If your Account is unbloked or they required some more information .