Zomato Happytime Offer – Zomato with Timesofindia is offering Rs.250 ZOmato Voucher with No Minimum Order Value on Sending an SMS. Lucky 250 Users will get the zomato coupon at 11 AM every day.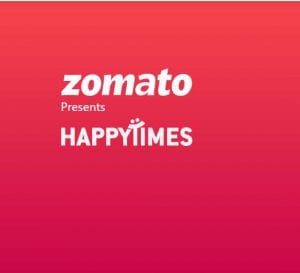 Just Send SMS in Below Format and if you are Lucky then You will Rs.150 Free food From zomato at 11 AM. The Promo Code is Valid For All The Users & on All the Restaurants. You Can Also Avail Zomato Referral Offer to Get More Discount.
Today's Answer (23/07)
MUMBAI A1 CCD A2 Sundaram Ravi
How To Participate in TOI Zomato HappyTimes –
1. First of All Open Your SMS App.
You Can Check Daily Quiz in TimesOfIndia Newspaper
2. Send a Text Message to TOI at 8745966661.
3. In Message Type <Your City>  A1 A2 (Answers of Today)
4. Like AHMEDABAD A1 VIKRAM A2 US and Send to 8745966661
5. Upon sending, you will receive a Confirmation and if You are Lucky You will get Coupon at 11 AM
6. Send This Message between 7 AM – 11 AM
7. Source – Click Here
Sample Coupons – (
Change Last Four Digits and it may Work

)

ZOMABKLZIA
ZOMABK57IA
ZOMABKHEJA
ZOMABKJEJA
ZOMABKLDJA
ZOMABK9CJA
ZOMABKCKJA
ZOMABKSKJA
ZOMABKWSJA
ZOMABKRYJA
Proof –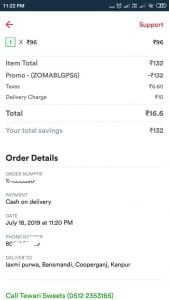 ---
Terms & Conditions –
The Zomato voucher worth Rs. 150 is applicable on order values of Rs. 200 and above
This voucher can be redeemed only once for a value of Rs. 150.
No two promo codes can be combined while placing the order.
You can use the voucher only once.
The validity of the voucher is only for 45 days.
This voucher can only be redeemed for ordering a meal on Zomato and for no other product.
1. Read the Times of India and answer 2 simple questions based on the same day's content.
2. Questions are carried in the strip below the mast head – everyday!
3. SMS your answers to 8745966661 in this template <City><SPACE>A1<SPACE><Answer1><SPACE>A2<SPACE><Answer2>.
4. If you live in Delhi and the two questions in today's TOI are:
Question 1: In which State did the election commission close campaigning ahead of time? (Answer 1 – West Bengal)
Question 2: Which actor interviewed the prime minister recently? (Answer 2 – Akshay Kumar)
Your answer should be in this format – Delhi A1 West Bengal A2 Akshay Kumar
5. Please make sure to specify your 'City' and not 'locality' name in the SMS format; for example Delhi A1 XXXX A2 XXXX. List of cities enclosed for your quick reference – Ahmedabad, Bengaluru, Chandigarh, Chennai, Delhi, Faridabad, Ghaziabad, Gurugram, Hyderabad, Jaipur, Kolkata, Mumbai, Noida, Pune.
6. Send both answers in a single SMS, between 7:00 AM and 11:00 AM, for that day's Happy Times.
7. 2500 winners would be chosen from those who provide both correct answers within the specified participation window (7 AM to 11 AM)
8. Remember to save your Zomato voucher code SMS for easy access.