Hello friends, welcome to bigtricks. We are back with another freebie where you can earn free cashback upto ₹1000 from Britannia good day. This offer is also similar to the Kitkat Free Amazon Prime offer, Yipee Offer and so.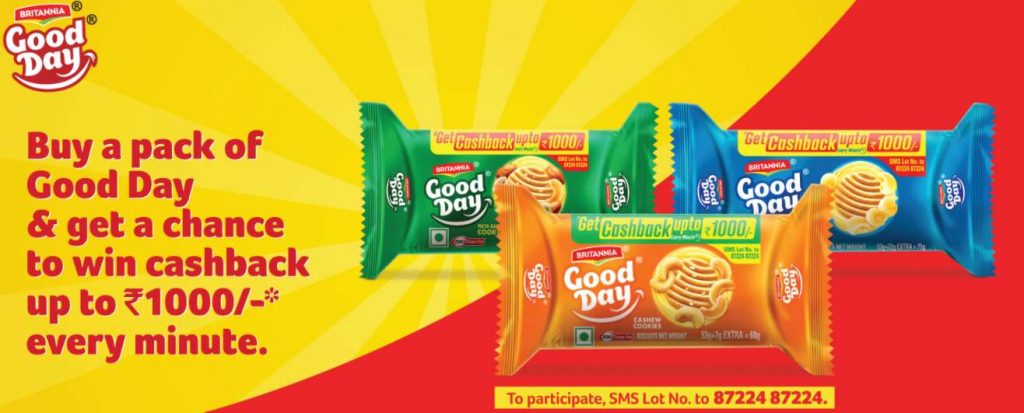 You just need to send SMS and you can win the prizes. You don't even need to purchase as we have got the leaked lot number.
Offer is available on below products
Good Day Butter 38G
Good Day Butter 75G
Good Day Butter 83G
Good Day Cashew 60G
Good Day Cashew 68G
Good Day Cashew 120G
Good Day Pista Badam 53G
Leaked Lot Number of Britannia Good Day Offer
B0521I5
How To Win Rs.1000 Cashback From Britannia Cashback Offer
1. First of all purchase Britannia Good Day pack from your nearby stores | Skip this step if you have the lot number, which is given below
2. Now Copy the Lot Number and SMS in below format
Send SMS LOT NO. to 87224 87224
For Example
Send SMS B0521I5 to 87224 87224
3. Britannia Good Day Lot Number is B0521I5
4. Now once you sent the SMS. You will receive a SMS with confirmation.
5. Now in few hours, You will get a reward claim link to claim the reward that you have won.
6. All other terms & condition will be mentioned on the page.
Prizes
There will be 37868 participants who will be selected from the Rest of India and 5332 participants who will be selected from Tamil Nadu. The Daily Prize Winners will be eligible to win a cashback voucher. Therefore, there will be 43200 winners who will be selected in the contest period of 60 days i.e., 720 winners will be selected every day between 12:00:01 AM to 11:59:59 PM from 7 to June 2021 to 5 th August 2021 (both dates included)
Terms & Conditions
---
Winner Selection:

Any participant can win a max of 1 prize during the contest period from a mobile number.
After a participant wins a prize, any entries coming from the same participant shall be considered as invalid.
From the Valid Entries received, the Organizer will select 43200 winners who will win Prizes throughout the Promotion Period ("Winners")
ROI Winners will be selected by the Organizers using randomizer time software by an independent auditor appointed by the Organizers.
For Tamil Nadu, from the Valid Entries received, the response describing their love for Good Day will be considered for evaluation. Each entry eligible for evaluation will be evaluated on the creativity of the response received by an independent auditor appointed by the Organizers.
Prizes will be given subject to the winner satisfying the verification process of BRITANNIA INDUSTRIES LIMITED
The Prize cannot be transferred, exchanged or redeemed for cash. In the event that the winner does not take the prize in the time and manner stipulated, then the prize will be forfeited by the winner and cash will not be awarded in lieu of the prize. Prizes must be taken as offered and cannot be varied. Any unclaimed prize is not-transferable, non-refundable and non-redeemable for other goods or services and cannot be taken in exchange for cash.
Any unused prize is not-transferable, non-refundable and non-redeemable for other goods or services and cannot be taken in exchange for cash.
BRITANNIA INDUSTRIES LIMITED shall provide the prize on an "as-is basis" and without any warranty or guarantee concerning the quality, suitability or comfort, and BRITANNIA INDUSTRIES LIMITED and/or its associates, affiliates and/ or its management, directors, officers, agents, representatives shall not be responsible for or liable (including but not limited to the product and service liabilities) for deficiency and/ or defect of any product/service and/or the prize or for any kind of consequential damages/ loss, in any manner whatsoever. If any Participant has any grievance with respect to the prize, he/she may directly contact the manufacturer.
The image of the prize depicted on the press ads/posters/TVC's/pack shots etc. are for illustrative purposes only and the actual prize may vary from the depiction made.
BRITANNIA INDUSTRIES LIMITED or its Agencies shall not be liable for any loss or damage of the prize due to Act of God, Governmental action, Force Majeure circumstances and / or any other reasons which are beyond the reasonable control of BIL/ its Agency, and under no circumstances, BIL shall be liable to pay any compensation whatsoever for such losses.
Any participant of the contest who wins the prize during the Contest Period shall not be eligible to win any further prizes.
The winner generation for prizes will be done on the basis of Valid Lot No Code + Unique mobile number