Google Pay Merchant Account – Hello Friends, Recently We Published about How to Make Phonepe Merchant Account & PayTM Merchant Account now in this post we are going to show you how to create a Google Pay Merchant account & earn Rs.50 on Signup + Upto Rs.5000 on Accepting Payments.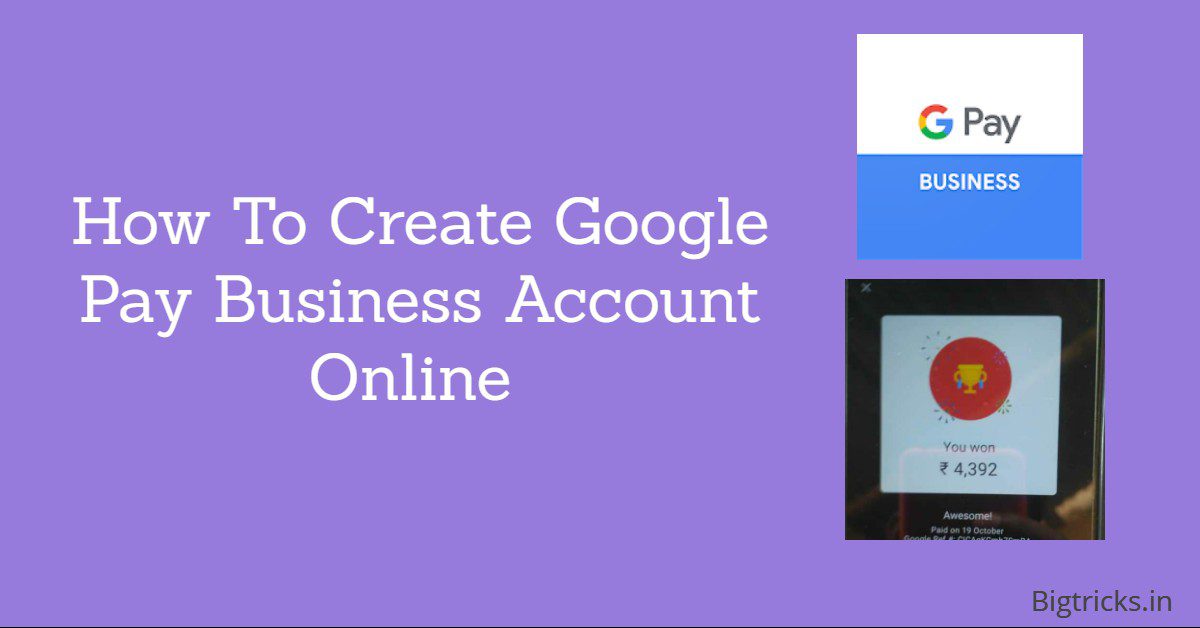 The Steps are Simple, You can Create a Google Pay Merchant account online by just following simple steps. You can create a merchant account even if you have already Google Pay Customer Account. So read the below Steps to Create your Own Merchant account and Start Earning.
How To Create Google Pay Merchant Account Online in 2 Minutes –
1. First of All Download Google Pay Business App From Link – Download Now
Download Google Pay Business App
2. Now Once You Download the App. Now Link Your Google Gmail Account.
3. Now Click on Add new Business and Enter Correct Details as per Your Shop, They will do a Video Call to verify Your Details so Make Sure All details are correct In the type of Business fill Sole Property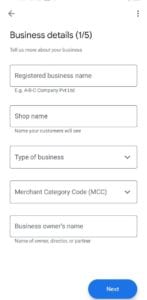 4. Now Add Your Shop Details like Area Pin Code, Locality & Address, etc.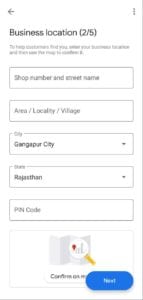 5. Now Select Shop Location in Map.
6. Now Enter Your Mobile Number & Confirm using OTP.
7. Now Enter Your Pan Card Number and GST Number(Optional) in this Screen
8. Now Enter Your Bank details where you want the Money in ( Don't Enter Payment Bank Account Number)
Your Account will be submitted for verification & it will be verified soon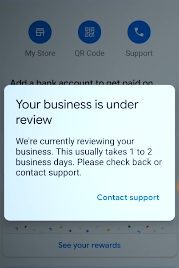 9. Now You Just Need to Wait in 1-2 Hour Your account will be Partially Activated.
10. You still need to Verify Your Business so Click on Verify Business & Start a Video Call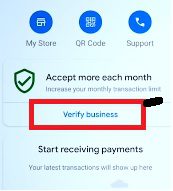 Tip: You won't see Agent Video, you can get only a black screen but you can listen to their voice and can talk to them.
11. Follow Steps mentioned in the App & Complete your Store Verification and Done.
12. Upon verification, Your Rs.50 Signup Bonus Card Will be Activated & Credited to Your Linked Bank Account instantly.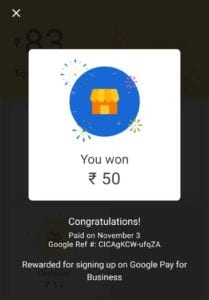 13. Now You Can Also Get Rs.11 Per Day for First Payment & Upto Rs.5000 Cashback on Accepting Rs.50 or More 15 Times.
Store Verification Requirements –
Make sure that you have all the required documents with you as you have to show them on a video call. You Must be at Your Shop as they May aks you to View the Shop Outer & inner Look.
They May Aks for GST Number You Can say Earning is Less than 18, Lac
Once You Got Verified, Your Card Will be unlocked & you will get an Rs.50 Scratch card.
---
Offers on Google Pay Business Account –
Accept First Payment Daily & Get Rs.21 Cashback –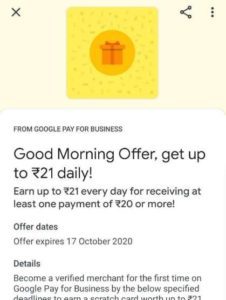 Now Accept First Payment on Google Pay Business App & Get Rs.11 Cashback. This offer is now valid till 7th December which means earn 21*30 =630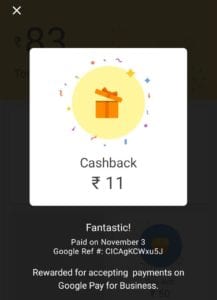 Google Pay Lucky Offer –
Just Accept 4 Payments a Week and Get a Chance to Win Upto Rs.1 Lakh.
How To Get Rs. 5000 From Google Pay –
Now Google Pay is Having a Diwali Offer where You Can Get upto Rs.5000 for Accepting Just 15 payments of Rs.50 or More. Users ARE GETTING REWARDS WORTH RS.5000 ALSO SO it's Just a lot of earnings.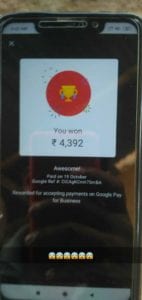 All You have to do is Just accept 15 Payments from Your Customers. This Offer is Applicable for only Verified users.
You Can see the Image Where a user has got Rs.4392 in Their Linked bank account