Flipkart TV Days are here where you can get Stadium like experience at your home with Flipkart TV Sale. Purchase from Flipkart with an ICICI card offer and extra discount with supercoins.
IPL is starting from 9th April 2021 and You can watch IPL For Free with these tricks. Along with this Flipkart is offering ₹1000 off with 200 Supercoins and an extra 10% off with ICICI cards. You can combine these two offers and purchase a TV at a very good discount.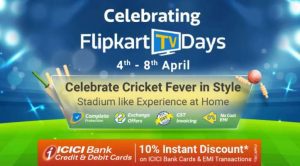 How To Get Get Loot Deals From Flipkart appliances days
| Flipkart TV Offer | Details |
| --- | --- |
| Flipkart TV Days | Valid From 16-20th April |
| Discount 1 | Rs.1000 / 1500 off with Supercoins [ Claim From here] |
| Discount 2 | 10% off with Axis Cards |
| Discount 3 | Mynstra Insiders' Rs.2000 Off [Scroll Down] |
| Discount 4 | 5% off By Completing Survey [Scroll Down] |
| Discount 6 | 5% Off During 12 PM to 12 AM 16th April |
| Sale Page | Visit Flipkart TV Loot |
How To Get Myntra Insiders Rs.2000 Off Coupon
Myntra insider is offering Rs.2000 off coupon when you follow below steps which is eligible on selected tvs
1. First of all visit Myntra website from below link.
2. Order anything and cancel the order
3. Now Visit Myntra Insiders & You will see 100 Points
4. Click on below link to redeem for Flipkart Rs.2000 Off Coupon
5. Done, Now You can click on below button to add discount in your flipkart account
6. The Coupon is eligible on below products
How To Get 5% Off From Survey
1. Click on below link and open the url in Mobile app.
2. Now answer 2 questions
Answer1 : Mumbai
Answer 2: Pink
3. Now You will Get Rs.500 discount added to your Flipkart account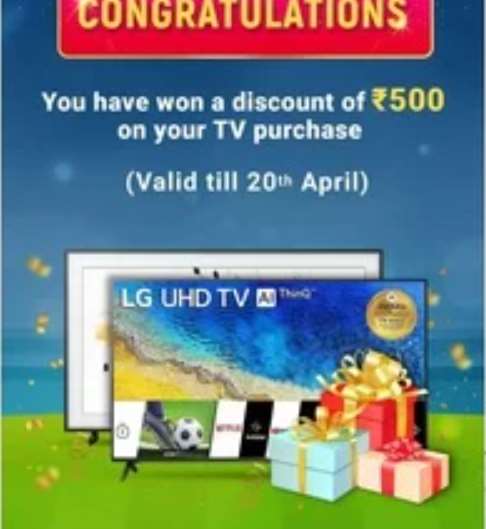 4. You can use while purchasing on any TV
How To Get LG 108 cm (43 inches) Ultra HD (4K) LED Smart TV at Rs. 25999
1. Collect all Above offers and check the final price in cart of below product
---
---
The below Offer was Loot and expired now. it was live during BBD
Flipkart is back with Biggest TV Loot Deals till Now, Now They are offering Upto Rs. 6000 Off If you purchase TV From Flipkart By Combining Below Offers
There are Many offers Combing at the Same time and You can Claim at TV Very Cheap Price, Many People have looted TV at Loot Price from this sale. Checkout below Table to Know more
All Offers at a Glance

1. Rs.1000/2000 Off From Myntra
1. First of All, Visit Myntra.com and Signup for a new Account or Login.
2. Now Click Here to visit Insider and Check the Flipkart Reward Shown Like this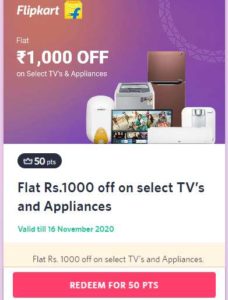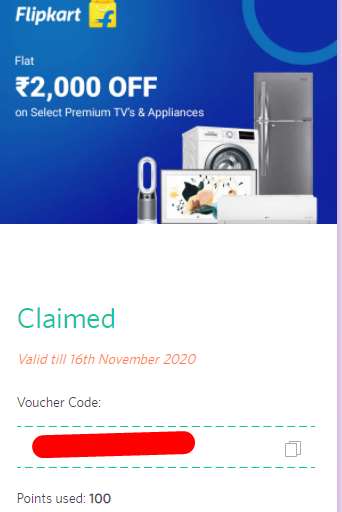 3. Click on Redeem and You will Get Rs.1000/2000 off TV Coupon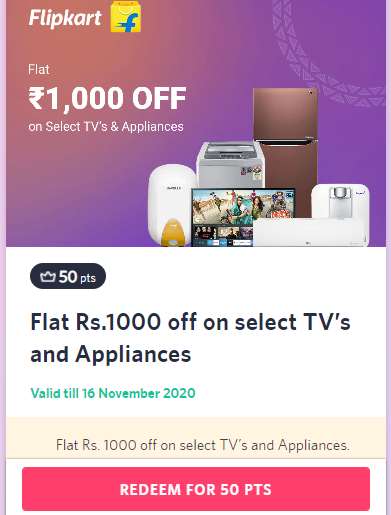 ---
2.Rs.1500 off With 200 Supercoins
1. Click on Below Button & Visit Flipkart to Claim the Rs.1500 off with 200 Supercoins, You can Earn Supercoins From Flipkart Fake or Not Quiz
2. Now, From here You collected 2nd Coupon
3. Now Send Money Using Phonepe & Get Rs.1000 / 500 off Coupon
1. Just Open Your Phonepe App & Click on Send Rs.100 to any of Your Friend. You will Get Rs.1000 off FLipkart Voucher
4. 5% Off With Flipkart Survey
1. Click on Below Button & Complete 2 Questions Flipkart Suevey to Get Another 5% Off Coupon on Flipkart
Answers : LED TV, Smart TV
5. 10% Off With ICICI/Axis/Kotak Bank Cards
You Can Get Another 10% Off with Axis/ICici/ Kotak bank Cards During Diwali Sales
Combine All the Offers & Save Maximum
Suggestion
Samsung 30 Inch LED TV
At Rs.8898
https://links.bigtricks.in/4qj
Thomson: https://links.bigtricks.in/4qk
Vu :
https://links.bigtricks.in/4ql
Marq:
https://links.bigtricks.in/4qm
Lg:
https://links.bigtricks.in/4qn