Hi! Friends, Today I am here with a very useful Information for you.I will Explain to you how to get unlimited virtual credit or debit card for free, you don't need to create multiple ids using this tutorial you will get unlimited VCC(Virtual Credit card) For One-time use with a single account.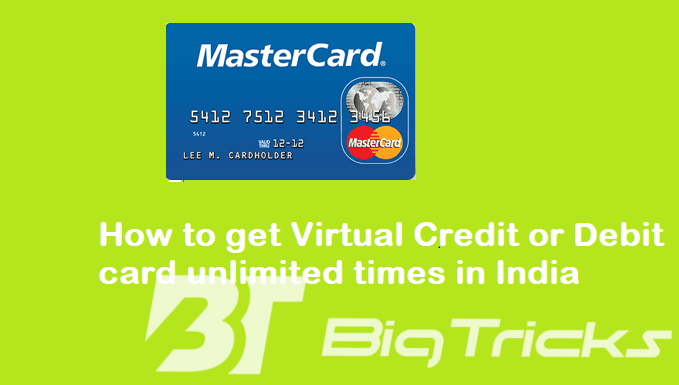 you are already aware where is the use of Virtual cards but still i would like to give you some examples for this.
Virtual Cards are the Temporary Prepaid cards that can be used for online Shopping and other online transaction.Virtual card can be generated from your net banking or some apps also offer this service.VCC increase your online security, you can create a card for your desired amount and destroy it after use so if your card details is saved it is useless for the hackers as it is unusable after the transaction.also when you need to transact on Credit card sites they impos you to auto deduction of payments after the trail expired if you use bank account credit card then your payment will be deducted automatically to avoid this situation. The virtual card is a boon.
Mnay apps in India like Pockets, Zeta Wallet,udio wallet and much more Companies Offering Virtual Credit cards for no fee but recently i discovered an App Named Kite Cash, Kitecash is Also A Virtual wallet that offers you Various feature with the generation of Virtual credit cards.
About KiteCash:-
Kitecash Offers you Unlimited VCCs For Unlimited transaction.You will get a master card that is valid for 24 Hours and as soon as you use the ard The Card Instantly deactivates.This is very good step For Security purpose. The balance left on the card will be refunded to your Kite Wallet.You can again create another Virtual Card with money from your wallet. You can do this unlimited time so you can use this app to do transaction on websites where you think card payment is not secure.
If You get a refund for any of your transaction that will directly credit to your Kite cash wallet.
You can't directly transfer your kitecash from wallet to your bank account, the cash can be withdrawn by only kite agents offline, so its better to use the cash for the onlie merchant and then redeem it, for example, you can transfer your cash to Paytm etc.
This Virtual card can only be used on Indian Sites, you can't use it for international transactions.
How To Get Virtual Cards From Kite Cash:-
1.First Visit playstore and Download Kite cash App.
2.Now Install The App and go For Registration.
3.For registration, you need to enter your mobile number name and other required details.
4.after registration You will see dashboard now Add money by click on "Add Kite cash".
5.To generate Kite card Tap on "Use Kite card".
6.Then On next Screen learn about the process and Click https://accords-land.top/azartnye-igry/ on create Kite card
7.Now Add the Amount for You card limit and proceed.
8.The Card Will be generated and can be used for one time only.
Aadhar Card Link with Mobile Number
Conclusion:-
Suppose You want to do Online transaction and You are going to use your actual card then hackers may save your details and you have to pay for it but I prefer to use Kit Card for security purpose also you can use this card for Trails, like If You Want Hotstar Premium then You can use This Virtual credit card to get one month premium Subscription to know more read Hotstar Premium trick