Hi there, This is Yash and Welcome to BigTricks. We got plenty of loot offers daily, Some offers are permanent and some are for a short period of time. Today here we have got another loot app for you. This App is Whaff App and this will give you Rs.30 or $0.400 on Sign Up & Rs.20 or $0.300 Per Refer. You can redeem your Earnings as Flipkart Voucher, Freecharge Voucher, Paypal Cash etc. This offer is not temporary it is here to stay. Enjoy.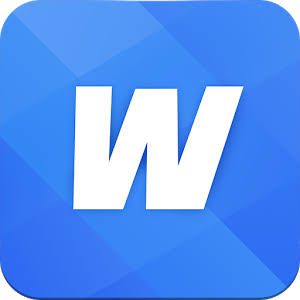 • Sign Up and Get Rs.30 or $0.400
1. Download the App from Here : Download Now
2. Login with your Facebook Id. By Clicking on the Top Right Corner of the Screen.
3.  In First Box enter the Code in Box and In Second one Enter below Refer Code to get Rs.30 or $0.400 Sign Up Bonus.
4. Enter Referral Code :

     XXXXX  

(To Get Rs. 30 Signup Bonus You must Enter Refer Code )
5. After this You'll see $0.400 = Rs.30 in Your Account.
6. Now start completing offers and earn some money.
• Get $0.010 Daily
Yes, This App gives you $0.010 daily by just opening and clicking on attendance button daily.
1. Open the App.
2. You'll see Attendance tab by sliding right.
3. Just Click on CHECK YOUR ATTENDANCE AND GET $0.010 REWARDS.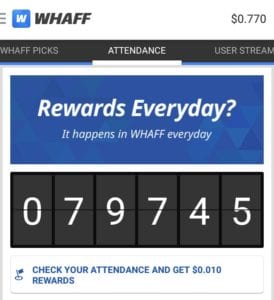 4. After clicking on this an AD will appear, again click on Attendance.
5. Done, You'll get $0.010.
6. To earn more you can check Whaff Premium picks and Whaff Picks Tabs.
• Get Rs.20 or $0.300 Per Refer
1. Go to Invite Friends tab.
2. From there Share this app with your friends and ask them to enter your refer code at the time of sign up.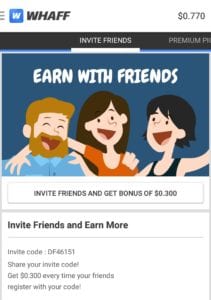 3. When your friend sign up and enter your refer code both of you'll get bonus.
• How to Redeem
1. From Menu Go to Payout.
2. Select the gift card you want to redeem.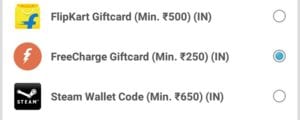 3. You need a minimum of $5 to redeem for Freecharge Rs.250 Gift Card and $9 for Flipkart Rs.500 Voucher.
4. The reward will be available in the app check gift codes tab within 24 to 48 hours after the redemption.
• Proof of Freecharge Voucher of Rs.250