Jio Prime Activation : Hi There and Welcome to BigTricks. From today onwards subscription or activation for Jio Prime Membership has begin only till 31 March 17. So don't waste your time Follow these 3 methods listed below and activate your Jio Prime Membership.
Must See These Articles First to know About Jio Prime Membership and their Plans.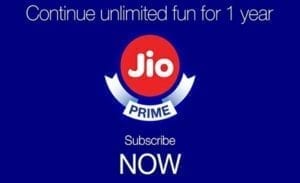 • Prime Membership Plan Benefits
1. Daily 1GB 4G Data (Unlimited At 256 Kb).
2. Daily 1GB 4G Wifi Data At Rs 10.
3. Unlimited Voice Calls And Unlimited SMS (100 SMS) Daily.
4. Unlimited Usage Of Jio Videos,Movies,Apps Subscription worth Rs.10000.
• Important Things You Need to Know about Jio Membership Offer
1. Enrollment Charges Rs 99 (Need To Pay At The Time Of Activation Of Prime Membership) – Regisrations For Prime Membership Will Start After 1st March 2017
2. Monthly Rental Charge Rs 303 For 1 GB Daily 4g Data.
3. Jio Prime Membership Activation Starts From 1st March 2017 And Can Be Done Till 31st March 2017.
4. Prime Memebership Offer Will Start From 1st April 2017
• Follow These 3 Methods : 
1. Activate from My Jio App
1. Open(Update if haven't updated yet) the App.
2. Now Go to Jio Prime By Clicking on the Top Left Side Menu Bar.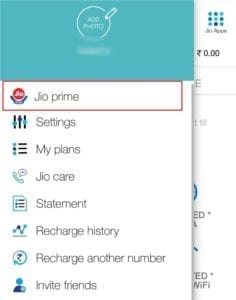 3. After that Click on Get Jio Prime and on next Page click on Rs.99.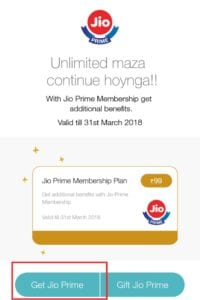 4. Now Pay Rs 99 To Activate Jio Prime Membership.
5. Done, Jio Prime Membership Will Be Activated On Your Number.
2. Activate from Jio Website
1. Goto Jio Website Recharge Page From Here : Jio Recharge Portal.
2. Enter your mobile no. and Submit and click on Jio Prime Membership.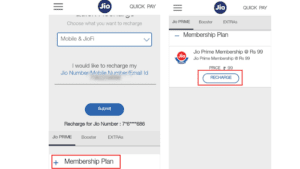 3. Pay Rs 99 For Jio Prime Membership Activation.
4. Done, Jio Prime Membership Will Be Activated On Your Number.
3. Activate from Jio Store
1. Visit Reliance Jio Store near you.
2. If you don't know Relaince Stores in your Area then Goto My Jio app and then goto Find a Store or A Hotspot.
3. After going there ask them to Activate Your Jio Prime Membership.
4. Pay Rs 99 To Staff Member Via Cash Or Using Your Card.
5. Done, Jio Prime Membership Will Be Activated On Your Number.
• Conclusion
You may get error while activating Jio Prime Membership by Online (1 and 2 method) but be patient as you can activate it till 31 March 17. We'll update you once the problem is solved by Jio. If you're still getting trouble then comment down below.