Google Pay Rs.200 Cashback on Food Orders
Gpay Food Offer: Hello Friends, Google Pay Go India Offer is Still Live and Now Gpay has come back with Food offer Where it's offering Flat Rs.200 Cashback on Food orders From Merchants Like Zomato, McDonald, Eat.fit etc. You can Get Flat Rs.200 Cashback on 3 orders
 You have to Do Three orders of Rs.200 or More From Zomato, Freshmenu, Eat.fit, McDelivery 
You can Also Checkout Google Pay Go India Game to Earn Rs.100 to Rs.500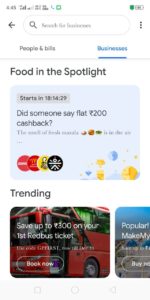 The Offer is Going to Start at 11 AM So Stay tuned for More Details. You can See the Offer By GOing to Business tab in Your GPay App.
How To Order Food From Google Pay App  & Get Rs.200 Cashback
1.  Download GPay App From Playstore First Using Below Link [ Rs.175 Per Referral ]
1. Click on the Business tab From Your Google Pay App

3. Now If You see the offer in the Top section then You can get Rs.200 Cashback Following T&Cs
4. Choose Any Business Like Zomato, eat. fit etc and order Food Worth Rs. 200 [ Three Times From Zomato, McDelivery, Freshmenu] 
5. Place your order and You will get the Scratch Card Which Will be Unlocked after 24 Hours.
6. The Offer will expire on 17th December
---