Collect Tickets & Visit Cities of Indian & Win Google Pay Cash of Rs.101 To Rs.501
Google Pay India Cities Offers, Google Pay Ticket offer, Google Pay Nanital Ticket, Google Pay Goa Ticket, Google Pay Visit india & Cashback Offers, Google Pay Tickets Trick
---
Hello Folks, It's Diwali Time and You must Remember the Google Pay Diwali Stamps Offer Where You Earned a Big Amount for Collecting 5 Stamps Like Diya and Rangoli and After that Google Pay New Year Offer Where We have Earned Rs.2020 For Completing Cake & The Same Offer is Back From Google Pay This Diwali This time It's Named as Google Pay Go India game
UPDATE: Just Do Rs.10 Recharge 4 Times and You will Get All those Tickets Like Goa, Kochi, Bastar, Puri, Nainital, We have Added Many Proof Users got All of them Join us
How To Get Goa, Bastar, Nainital, Kochi Tickets
We have Also Published Tricks to Collect Rare Tickets Like Nanital and Puri From Gpay Tickets Giveaway
Now Get Flipkart Vouchers from Google Pay Go India Also
In this Game, You Need to Collect Tickets Visit all the cities in the game by 25 November 2020" to win the Go India Rewards and Win Exciting Prizes
Join @Bigtricksin Telegram Channel For All Rare Tickets Giveaway
You Can Join Telegram Channel For All Google Pay TIckets & Offers, Link is in Below button and it's very useful for you. Telegram is Messenger like Whatsapp. Read more about Telegram Channel
What is Google Pay Go India Game & How To Play it ?
Google Pay Go India Game is now Valid till 26th December 2020
This Festival Season You just need to Collect Google Pay Tickets & Kilometers [KM] & Visit as many Cities as You can Before 25th November and You can Earn a Flat Reward also On every 5th city that you visit, you can choose from a range of merchant vouchers. Choose 1 to proceed further in the game. You need to Do Transactions and Ask Friends to Share Tickets. We at Telegram Channel Will Share Free Stickers for Our Subscribers
---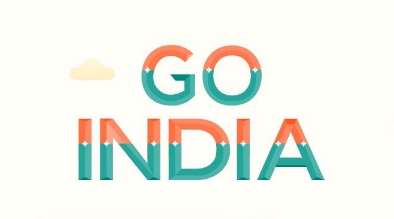 How To Find Google Pay Go Game In Your Google Pay App
We share free Rare Tickets in Our Telegram Channel & Updated So Join Now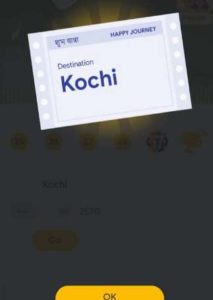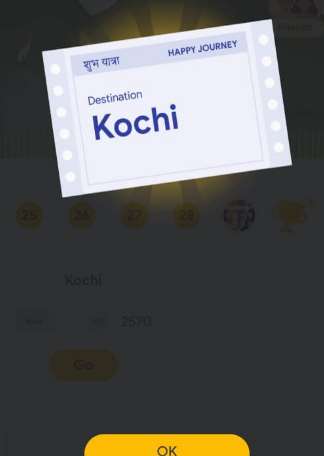 हम अपने टेलीग्राम चैनल में मुफ्त रेयर टिकट साझा करते हैं और अब इसमें शामिल होते हैं
1.First of All Update Your Google Pay App or Install it If you haven't installed yet.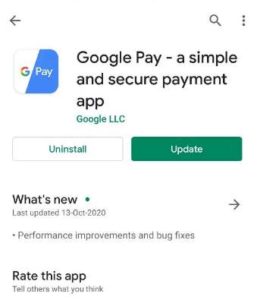 2. Now, Once it's Updated or installed, You can See the Option for Google pay GO Offer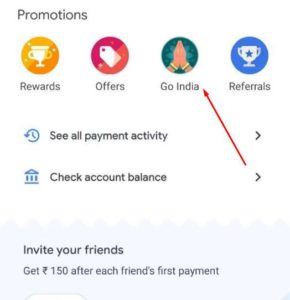 3. Now, Click on the Option and Open Google Pay Go Offer Page.
Note – this offer is Rolling out Slowly, You many need to wait bit longer if it's not enabled for you
4. Now Start Collecting the Cards and Kilometers & Start Visiting the Cities of India Virtually.
5. Follow below steps to get the Tickets etc.
6. Share Your Extra Tickets with us or Send to @bigtricksbot
---
How Many Cities are there in Google Pay Go India Game
There are Total 30 Cities in Google Pay Map to get the Big Rewards, You need to Visit all the Cities
How Many Tickets You Need to Collect in Google Pay Go India Game
You Can Collect below Tickets For Free in Google Pay Using Giveaways from our channel and Sharing Phots
Gaya Google Pay Ticket
Hyderabad Google Pay Ticket
Jaipur Google Pay Ticket
Surajkund Google Pay Ticket
New Delhi Google Pay Ticket
Mumbai Google Pay Ticket
Bengaluru Google Pay Ticket
Kolkata Google Pay Ticket
Puri Google Pay Ticket
Gangtok Google Pay Ticket
Kochi Google Pay Ticket
Kachcch Google Pay Ticket
Chennai Google Pay Ticket
Nanital Google Pay Ticket
Bastar Google Pay Ticket
Amritsar Google Pay Ticket
Kohima Google Pay Ticket
Imphal Google Pay Ticket
Dharamshala [Event] Google Pay Ticket
Sohra Google Pay Ticket
Agartalla Google Pay Ticket
Srinagar Google Pay Ticket
Bhopal Google Pay Ticket
Champhai Google Pay Ticket
Vishakapattam Google Pay Ticket
Jamshedpur Google Pay Ticket
Tawang Google Pay Ticket
Varanasi Google Pay Ticket
How To Collect Google Pay Go India Cities Ticket & kilometres
You can collect Google Pay Go India Tickets by Doing following Tasks & Earn Rewards
Sharing Tickets with Your Friends & Ask Friends for the Tickets
Recharge or Bill Payments using Google Pay [ Rs.100 Or More ]
Making Payment to Google Pay Merchants Outlets
Paying Through Google Pay on its Online Merchants Like Cred
Purchase Play Store recharge codes on Google Pay or pay via UPI on Google Play
Do a bank transfer on Google Pay| USe P2P Transfers
How To Play Google Pay Go India Game & Earn Rewards
1. First of All Open Your App & Move to the Game Screen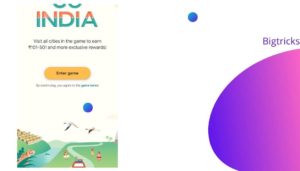 2. Now Click on Start Game & Read the Road Map of the Cities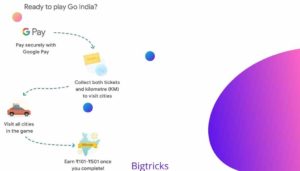 3. Now Once You are here Set a Starting Point It may be any City like Bangalore or Amritsar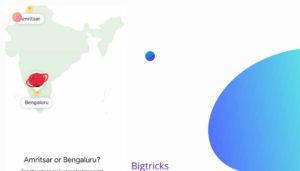 4. You will Get your First City Ticket From here & killometers 3000 KM
5. In Those Tickets Two Cities will be Mentioned and You Can visit those 2 Cities without doing anything.
6. In Some Cities there might be Evenets running and you will get Extra rewards for visit Cities
KM enables you to travel between cities, you can visit a city of your choice from the present city location if you have enough KM to reach the city.
7. Use Your Existing Tickets Like If you started from bangalore then You Can Visit Channei and Get extra Ticket for this.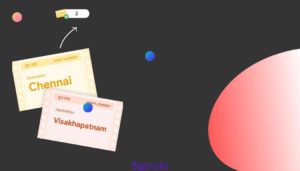 8. You will Keep Getting Tickets in this Way, Perform More transactions and Collect more Tickers & visit the Whole india.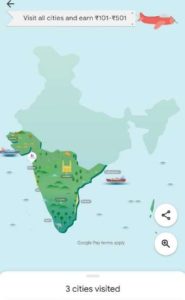 9. Now You Can perform Some Transactions to Collect more Tickets
Keep Collecting Tickets By sharing Tickets to Friends
You can Keep Collecting More Tickets by Sharing tickets to Your Friends and also You can Request them to Get the Free Tickets
How to Share Ticket with Friends
1.You Will see a Km Icon on top and You can click on it to Open the center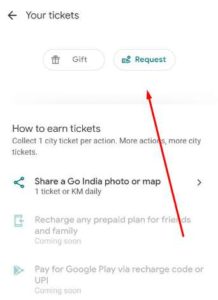 2. Now From Here Click on Gift Button and Choose the Photo You want to share to get Extra tickets
Please Comment Your Request of Gift Link Below in Comment Section To exchange with users
Share Your Extra Tickers To Below Link
Google Pay Go India Cities Terms & Conditions
Visit all cities to complete your journey by 25 December 2020 to win an assured reward worth ₹101-₹501 and bonus rewards along the way!
You can visit all the cities listed in the game during the Offer Period to earn rewards.
Once you have visited all the cities listed in the game, you will earn a scratch card worth Indian Rupees One Hundred and One (INR 101) to Indian Rupees Five Hundred and One (INR 501). Your earned reward will appear in the rewards channel. For clarity: if you haven't visited all the cities in the game before the end date of the game and/or decided to not continue playing the game before the end date, this will not constitute a basis for canceling transactions you made which already resulted in receipt of city tickets and/or claiming a refund.
For each milestone that you have reached, you will earn a unique voucher. You can earn a maximum of one voucher per milestone.
You will be given a choice to choose from a selection of partner vouchers within the game.
You need to choose one of the partner vouchers to proceed in the game.
Your earned vouchers can be found in your reward channel.
If you do not claim your offer rewards within 45 days or link your UPI enabled savings account to your Google Pay account within 45 days of claiming the reward, your reward will be deemed to be forfeited and will no longer be available to you.
There is no in-game limit to making qualifying transactions as you want to earn a city ticket. The total number of qualifying transactions you can make as well as their amount is subject to applicable law, banking/payment system rules, merchant terms and/or Google Pay terms.
Proof