Hello Friends, As you know, Google Pay GO India Offer is Live till 26 December. Now Google Pay Event is Also Coming on 7th December and this time it will be available for All cities which means you don't need to visit any specific City, you can Just visit Any City and Get the Scratch Card.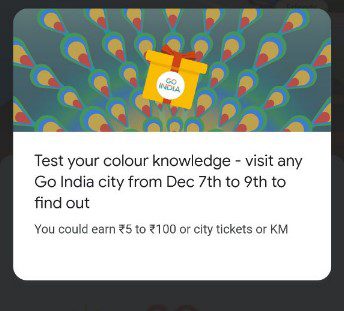 You need to Answer Few Questions to get the Rewards. You can Answer 5 Questions and we have added those below of All Possible Questions
Also Keep Checking Working Tricks to Get Google Pay Rare Tickets Like Gaya, Bastar and Nainital With Bigtricks
How To Take Part in Google Pay Pan India Event & Win Rewards
1. First of All, Download Google Pay and Visit Google Pay Go India Event.
2. Now Just See, the Icon of the Google Pay Quiz and Visit the Place, You don't need any specific Ticket for it.
3. Now Open the Ticket & Follow Below Questions to Answer
4. The Answers Are Given Below
5. You will Get Rewards on Completion of Quiz | Questions order may be Changed so Take a Look in answers first
Google Pay Pan India Event Quiz Answers
Below are the Answers of the Google Pay Event Quiz Answers, The Questions are Not Given, Just Match With Answers and there will be a random order of Answers so First Learn All the Answers and Then Mark
Q1. Which is Known as Blue City?
Answer – Jodhpur [ Blue City ]
Q. Alta, Sindoor and Kumkum are From Which Colour Category?
Answer – Red [ Alta , Sindoor & Kumkum Colour]
Q. WHi Produce Highest Yellow Colour Mangoes
Answer – Uttar Pradesh [Most Quantity of Yellow Mangoes]
Q. Which State Has Highest Forest
Answer – Madhya Pradesh [Highest Green Forest in Which State]
Q. How Many Colours In Google Pay Logo
Answer – Four [New Google Logo]