Gpay Business Holi Stamps Offer 2021
Hello Friends, Recently Gpay Business or Google Pay Business app announced that from22 march it's coming up with a Gpay Diwali offer or Gpay Go India Offer Similar offer but this time it's for merchants. So Now Merchants can collect the cards and earn Exclusive cashback up to Rs.1001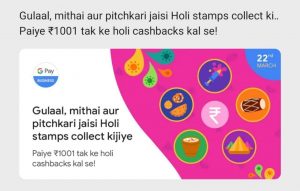 This Offer will be available for all verified Google Pay Business Merchants. You can Open a GPay Business account online and verify it in order to get the offer.
In Gpay Business Holi Offer, You need to collect stamps like Pichkari, Thandai etc Just Similar to PayTM Holi Bash For All Users.
The Offer is Starting From Tomorrow 22 March 2021 So Stay Tuned for more Updated on this offer
How To Signup on Google Pay Merchant Account
Follow the below Complete Guide for Steps to Open Google Pay Merchant Account Online
How To Open Google Pay Merchant Account Online
What is Google Pay Holi Offer For Merchants
So This Holi Merchants can earn Cash for accepting Payments from customer on daily basis. You just need to collect 1 payment at least daily for next 16 days and Collect 5 Stamps to win Grand Rewards
What is the Validity of Gpay Holi Offer
Gpay Holi Offer for Merchants is valid from 22nd March to 7th April 2021
What are the 5 stamps in Google Pay?
Dholak, Gulal, Lassi, Pichkari and Mithai are the 4 Stamps to be collected in this offer
Google Pay Holi Offer Rewards
Reward Name
Details
Daily Shagun
Collect 1 Stamp a Day and win upto Rs.21
or a Voucher
Gift of Three
Collect Three Stamps of the Same Type
Win Upto Rs.101 or Voucher
All Five
Collect 5 Stamps and Win Flat Rs.251
Happy Holi
Collect 12 Stams and win Upto Rs.1001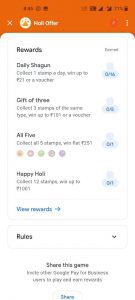 How To Collect All 5 Stamps in Google Pay Holi Offer
There are 5 Stamps to be collected under this offer, You can simply create a Google Pay Business account and start accepting payment of Rs.20 or more to get stamp on every payment acceptance.
1. Get Your Google Pay Business account verified from google. Steps to Verify are here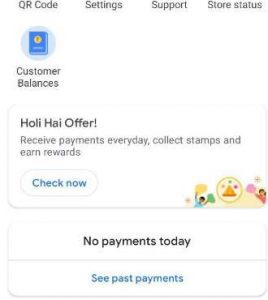 2. Once your account is verified, You can accept payment on your QR code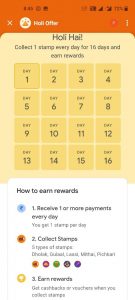 3. Accept at least Rs.20 to be counted towards the offer.
4. Every transaction must be unique to get the stamp in Google Pay Holi Offer.
5. Now keep following this process and you will get rewards as per above table.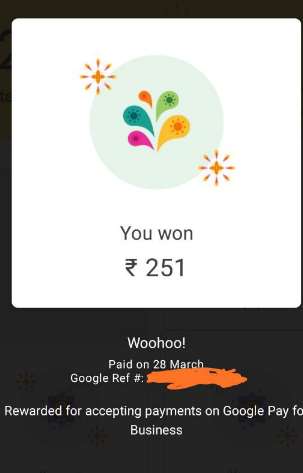 6. There are maximum 5 stamps to be collected for the Flat prize and 12 stamps for the ₹1001 Rewards
Join Our Telegram Channel For Instant Updates
---
---
Terms & Conditions
The Offer is Valid Only for Verified Merchants
The offer is Valid From 22nd March 2021 to 7th April 2021
Minimum Rs.20 needs to be accepted through QR code For stamps