How To Get Nanital Google Pay Ticket For Free, How To Collect Google pay Nanital Ticket: Now The stage came in Google Pay Go India Offer where we struggle Now have started, There are Some Rare Tickets on Google Pay. Nanital, Puri, Kochi, Varanasi are the Rare tickets and Goa, Bastar, Gaya are semi-rare tickets so Once you reached to 25 tickets now you have to do "mehant" to collect more tickets
Read Also:
We are Continuously Looking For the Tricks to get Nanital Ticket in Google Pay and Some of Our users have successfully collected Nainital ticket, Upon their response, we are sharing how they got Nainital ticket.
Working Tricks to Get Nainital Tickets in Google Pay
Latest Trick to Get Nainital Ticket For Free From GPay App
There is an Ongoing Event For Nainital City Where you can Share the Event page and Get Free Nainital Ticket Read More About Nainital Event
Recharge With Rs.198 or more to Get Nainital Ticket in Google Pay Go India
As per the Update By Google on Twitter, You can Get Nainital From Google Pay Map by Just making a Recharge of Rs.198 or more. If you want to try then you can go ahead and Comment below If You get it.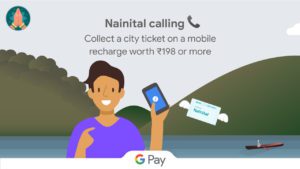 Note – Please Try Recharging If You need Recharge Else, Don't Waste Your Money because You will Get Rs.100 something on completing games after spending much amount and Stay Tuned with us on Bigtricks Telegram Channel for Tricks to get Nainital Ticket for Free, Just Like We Published Trick to get Goa Ticket for Free
---
UPDATE: Some Users Claimed that They Got Nainital and Goa Tickets By Doing Recharge of Rs.10 Using Google Pay + Extra Cashback of Rs.10 From This Google Pay Offer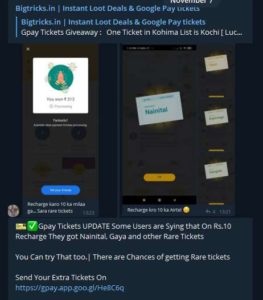 Make a DTH Recharge Updated on 25th November
Among the Three Users, One Said that he has done Rs.100 Tata Sky Recharge and got this Nanital Ticket From Google Pay You can Also make a Recharge To Tatasky. Tatasky Number looks like 1307112563  and You can Make Recharge Using Google pay app itself.
Add Money in Airtel Money or Pay Credit Card Bills From Cred
This is Not verified method yet, but it is cost-free, You can add money in Airtel Payment App or Pay Credit card using Cred App and You might get One of the Rare Ticket
We are Continuously Looking for other methods to get Nanital Tickets and We will Update where there are other working methods Till Then You Can Join Telegram Channel For Updated on such trick instantly
People Who Won From Google Pay: Screenshots