Hello Friends, Today we are here with a 100% Verified Trick Where Many People have Confirmed that they got the Required Rare Ticket From Kochi, Goa, Bastar, Gaya and Nainital By Doing the Following Steps in Google Pay Go India Game
How To Get "Goa" Ticket in Google Pay Go India Game
Just Share the Google Pay Goa Event Page & Get Assured Goa Ticket. You can Also Earn Rs.10 From Google Pay Goa Event Answers
How To Get Rare Tickets in Google Pay Go India Map
We Regularly Update, latest Trick for getting all the rare tickets in Google Pay Go India Game, You can Join Our Telegram Channel For Instant Alerts of Getting Google Pay Go India Tickets
#Method 4 25 November 2020 Google Pay Update:DTH Recharge
Today, Make DTH Recharge as 100% users are getting Kochi and if you are in need of Kochi then don't miss it.
#Method 4 21st November 2020 Google Pay Update: Merchant & Flipkart Trick
Go To Flipkart/ Amazon Pay / Cred Website or app [ Working For Today ]
Place an order of Rs.700+ or more [ You can cancel the order instantly after getting the ticket]

Now, You will get the Rare Tickets Like Bastar & Goa For Free. This Method is working on 21 and may expire soon so grab fast
[WORKING on 17th November] Make A Payment to Google Pay Merchant [Unique Amount ]
Many People Today Confirmed on 15th November has confirmed that They got all the rare tickets by Making a Payment to Google Pay business. Some of them have got the ticket in 2-3 tries but they are getting it for the sure.
You can Also Try Making a Unique Payment to any Google Pay Merchant by Scanning their QR Code.
You Can Also Create Google Pay Business Account By Following Guide to Create Google Pay Business Account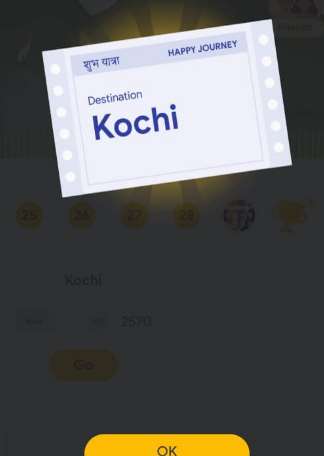 ---
Other Helpful Tickets Tricks