So Guys here is another news from paytm recently paytm added a food delivery option in the PayTM app. Now PayTM is launching "PayTM First" Which is a loyalty program that covers Paid membership of various Apps like Eros Now, Zomato, Uber Eats, Viu Premium, Gaana Premium membership.
Benefits worth over Rs 12,000 at just Rs 899 per annum
After Amazon Prime and Flipkart Plus, Paytm has launched its own subscription-based rewards and loyalty program, 'Paytm First'. This will offer a subscription to on-demand entertainment, live cricket, TV, music, shopping, movies, food and more, in addition to Paytm cashback offers.
Paytm is decided the price of this membership Rs.750 which will come with Rs.100 introductory cashback. You can avail of Paytm First By Downloading the Latest Version of the PayTM app & Visiting PayTM First section. It might be in the testing phase for now & soon it will be available for all of the users.
PayTM First Price –
Paytm First is Priced at Rs.899 annually
The Paytm First Membership Includes benefits from –
Zomato Pro membership
Annual Gaana membership
Annual Sony Liv subscription
Voot Premium
Eros Now Annual membership
Sony Liv Premium Subscription worth Rs.499
---
PayTM First Membership For Just Rs.19 Effectively
PayTM Is giving PayTM First membership for Just Rs.19 Effectively From 1 September to 5th September, The PayTM First Membership Comes with a lot of benefits including Premium Zee5 Membership and SonyLiv Premium Membership with tons of Add Money offers and a lot of other offers.
1. First of all Download the PayTM app or Just Visit the PayTM First Membership Section.
2. The Price of that membership is ₹899, You can apply the below code to get instant Rs.400 Worth Cashback Points, You can redeem to payTM Wallet.
Apply Promo Code: PAYTMFIRST40K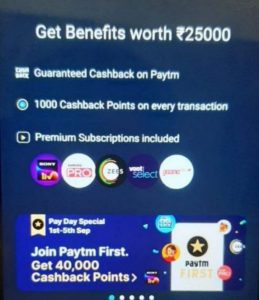 3. Now Pay Rs.899 using available methods so You have activated it, Now every Month on Add Money of Rs.500, You will get Rs.30 Cashback for 6 Months which is Rs.180
4. You can Pay any bill payment for a month o Rs.100 or more to Get Free 5000 Cashback Points for 5 transactions worth Rs.50 Which is Worth Rs.300 For next 6 Months
5. So Now FInally, The membership is worth Rs. 899 – 400 – 180 – 300 = Rs.19 Only 
6. For Just Rs.19 you get benefits like
Zomato Pro membership
Annual Gaana membership
6 Months Sony Liv subscription
Voot Premium
Eros Now Annual membership
PayTM First Membership For 3 Months at Just Rs.1
PayTM is offering PayTM First Membership is offering Its Membership for 3 months at just Rs.1 only. You can purchase using the below link and Claim the Free Trial of PayTM First Membership. We recently also posted Trick to Get Timesprime Membership and Lenskart Gold Membership For Free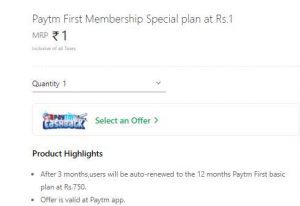 1. First of all Click on the below Link to Purchase Rs.1 Deal from PayTM mall
2. Now, You can Download the PayTM App. You can search for PayTM First
3. Click on First membership and Apply the Coupon you got.
4. Now You can pay Rs.1 using any payment option.
5. Please Disable Auto-Renew else You will be charged Rs.479 post the trial period of 3 months
How to disable Auto-Renewable
1. Once You activate payTM First Membership, Click on Special Plan
2. Now Click on Disable Auto-Renewable from the bottom.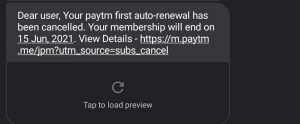 3. Now You will not be charged for the Yearly Plan
---
Watch This Video –
Additionally, "Paytm First" customers will also get over Rs. 1500 cashback including Rs 100 cash back on movie ticket booking each month. There would also be exclusive offers for shopping on Paytm Mall with unlimited free and priority shipping, in addition, to access to priority 24×7 customer care as well.
Previously Tapzo App introduced this Combined app model but it was failed to capture market share & eventually sold to Amazon. Now Amazon Shut that down just to increase Amazon Pay Customers.
It is currently available in beta on Android (join our beta program from Play Store to become Paytm Beta user). It will be released to the public by midnight 5th March. It should be available on iOS by 6th March.
---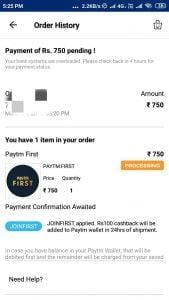 ---
Is it Worth to Buy PayTM First –
Now the question arises that should you buy Paytm first. The answer is depend on you as you can see paytm first includes prime membership of 8 apps so if you are using Premium membership for these 8 apps then it's a definitely good offer but if you don't use them I will not recommend you to buy Paytm First Why? so here is the answer. 
There is already a Premium trick Available for Eros Now & Viu and You don't need Sony LIV App premium as there is no good content.
Zomato Gold is useful if you go to a restaurant & Order food. Uber eats Promo code is applicable on Minimum Shopping of Rs.250 whereas Swiggy is already offering 50% off using Coupon SWIGGYIT. You Can Get Free Music on Saavn App (If you are a Jio Customer) or on Amazon Prime Music (If You are Prime Customer) So if you see all the available benefits already available for free so i don't think You should buy it UNLESS PAYTM WILL OFFER EXCLUSIVE CASHBACK OFFERS which is there during 1-5th September so get it Now.
Premium Music –
1. Annual Ganna+ Premium membership –
Get a completemetry 1 Year Gaana plus subscription worth Rs.399. Listen more than 3 crore
2.Wynk Premium Subscription worth Rs.999-
Get a Free Complimentary Wynk Premium Music worth Rs.99. You will get a Coupon code, that you have to apply in Wynk Music App. You can get Only 1 Coupon.
Food & Travel –
3. Zomato Gold Membership –
Get a Complimentary 3 Months Zpmato Gold Membership worth Rs.600 absolutely free with PayTM First
The Activation code should be applied on Zomato App before it's an expiry date If you are already a Zomato Gold member contact customer care to extend the validity.
4. Free ber Rides worth Rs.1000 Every Month with PayTM First –
Uber Passes will be available for purchase from PayTM at the Discounted price for 180 Days. You can apply for these passes on Uber Rides
5. Uber Eats Free Meals worth Rs.2400 on Uber eats –
With PayTM First Membership You can get Rs.100 off on Rs.250 twice a month for next 12 month which means a benefit of Rs.2400 on Your Uber eats Orders.
Endless Entairtenment –
6. Get a Complimentary Subscription of Sony LIV for a Year –
With payTM First You can get a Premium membership of Sony LIV app free for a Year. You will get a Coupon code. That you need to apply on Sony LIV App.
7. Free Complimentary Subscription of Eros Now App for am Year –
You can Get a Complimentary Subscription to the Eros Now App for free. You will get a Coupon code that will enable your Premium membership on Eros Now App. We have already published Eros Now Premium Membership Trick – Read About Eros Now Premium membership Trick
8. Free Viu App Premium Subscription –
Viu App is also a Partner of the PayTM App. We have already Shared Viu App Premium membership for free but Now if you choose paytm first, you will get it free. Just Apply the Promo Code received from Viu App – Read About Viu App Premium Trick
---
How To Purchase PayTM First membership From PayTM –
1. First of All Download Latest Version of The App – Download Now
2. Now Login to Your Account & proceed to the homepage.
3. You can see PayTM First option in Menu as well as in homepage items.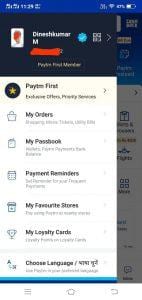 4. Now at the Bottom Page, You Will see an Option to Purchase PayTM First Membership for Just Rs.750 & Extra Rs.100 Cashback as an introduction offer.
5. Now Proceed to Payment & pay Using PayTM Postpaid(I will tell You why)
6. I asked you to make Payment through Paytm Postpaid because there is one offer going on where Paytm is offering Rs.50 cashback on paytm Postpaid bill Payment (Read PayTM postpaid Bill Payment Offer)
7. So You have got PayTM First membership for just Rs.600
So Guys Please Comment below What do You Think about PayTM first membership.It will help other users to buy it or not.